US singer-turned beauty mogul Rihanna announced to the world – May 10 – that she would be dropping Fenty Beauty and Fenty Skin in eight African countries, and finally South Africans got a chance to experience the full product range amid much fanfare at the weekend.
Likewise, the eagerly-awaited drop was preceded by a series of beauty talks and exclusive 'Fenty Club' VIP events in Johannesburg and Cape Town hosted by Fenty Beauty's elegantly flamboyant global makeup artist Hector Espinal, who we learnt was picked by Rihanna herself to represent the two billion dollar plus worth brand around the world
Having worked as a Sephora PRO artist for five years, Espinal was the company's biggest asset, traveling the globe and creating jaw dropping looks for their major campaigns, educating staff, and participating in sought-after media and consumer events.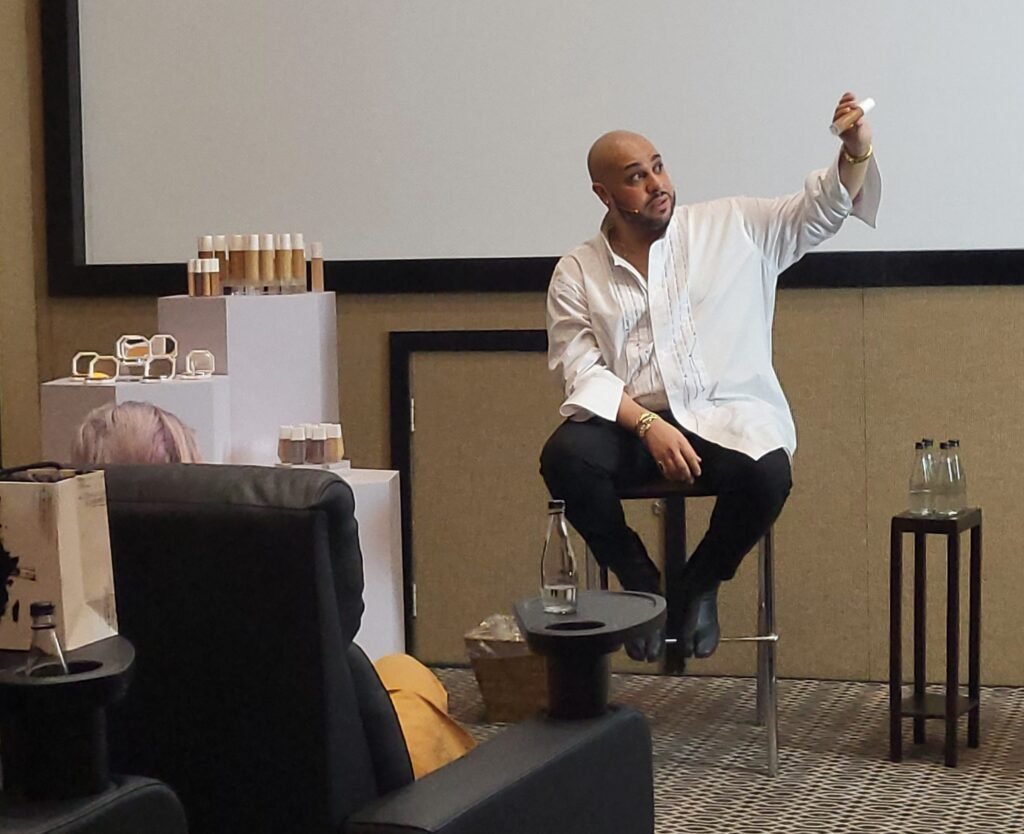 Speaking to NOWinSA during an exclusive media sit down at the Saxon Hotel in Johannesburg, courtesy of Velvet Luxe, Espinal said it's been Rihanna's long held ambition to bring Fenty to Africa, "with her knowing all too well how hard it can be for women of colour to find the right make-up for their skin tones."
When Rihanna, born Robyn Fenty, launched Fenty Beauty in 2017, she sought to create a cosmetics company that would make women everywhere feel included, least did she know that the move will help her enter one of the world's most sought-after ranks; billionaire.
Explaining why the Fenty beauty brand strikes a cord with South Africa and the continent at large, Espinal had this to say: "When I think of Africa, I think of how the women here are strong yet welcoming. In the same breath, I am reminded of how confident Rihanna is, but she's also soft … that's truly a humbling thing to get to experience first hand. And what I love more is also the history, and the rich African culture, both which represent a lot about who Rihanna is. Born and raised in Barbados, Rihanna comes from a country with a low income history, to being where she's today. She understands all that … so when she creates a product, even the price point or the formula has to feel right, and all those things came together nicely with the Fenty brand."
Wondering how it really is like working side by side with the world's richest female musician, and second only to media mogul Oprah Winfrey as the richest female entertainer (per Forbes 2021)? Espinal has only good things to say about her, and as it turns out, 'Rih' is a legitimate sweetheart, just as she's inherently a gifted musician. In simple words, the 'As Real As You and Me' singer lives and breathes the brand; and "always" goes out of her way to make someone else's day extra special.
"I work with a lot of people and celebrities, but I've never seen someone so humbled. What I love about her is that she never forgets where she comes from. We could be here all of us working 12 to 20 hours, and she'll make sure that we all ate. And you know that's an African thing, we love our food … And she'll be like 'how is your mom', 'ohhh how are you feeling' and 'do you have this'… like she frets about everyone around her. Like when I first started with Fenty Beauty, I would receive flowers daily. There was a doctor coming to my house everyday. Like she thinks about everyone around her. I don't know how she does it to be honest, and I've seen people like in shock by how amazing she's. I think that speaks a lot about who she is and ultimately what her brand is all about; to be as humbly remarkable as possible …. she's one of the best bosses I've had my whole life, and I love her."
Living the Fenty Beauty brand with Hector Espinal
Hector served as a Sephora PRO Artist for five years. Since being chosen out of hundreds of artists by Rihanna to join the Fenty Beauty global qrtistry team, Espinal has been an integral component of the brand's industry-shaking launches and growth.
His keen eye, relentless passion, and unmistakable ability to highlight models' natural beauty in unique ways are employed through beauty looks for Fenty's campaigns, product expertise and more. In addition to Fenty, Hector also serves as the lead artist for special events like NYFW, and hosts artistry classes, develops educational tools to personally train thousands of Sephora makeup artists worldwide.
As a proud Dominican and native New Yorker, Espinal believes in the powerful sensuality of makeup and infuses his urban and Latino heritage into a glamorous makeup vision, both on and off the runway, and on his celebrity clientele.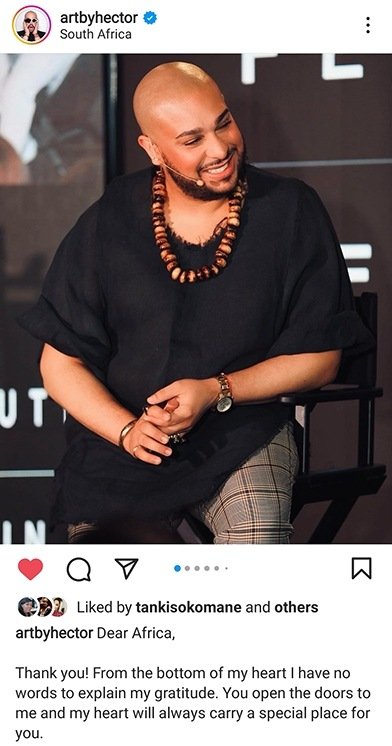 Espinal briefly touched on why he went for a career as a make-up artist, debunking in the process the stereotype of taking on a more traditional employment, as expected for adult children of immigrant patents.
"Stereotype will always be there, especially since I'm the youngest of four children," he says adding: "My one brother went to college, my sister represented the country and went to the army for eight years. My other brother is a business man. So I was the crazy one, I came out gay, and wanted to be my mom's makeup artist, and she like 'denied denied denied'. But I was like I'm still gonna do it. Truth is I'm artist, and in some shape or form, I was even going to be a dancer. So the creative spark has always been in me, and I think it's important that each person lives their own truth. I'm lucky that my mom and I have always had the best relationship when I was growing up. Even when I opened up to her about being gay, she's always been supportive. To me that's very important, that I remain true to who I am and don't let go of those rules. And though I've traveled the world, I've always remained humbled, in a sense that I always told people that 'yes I'm a high school drop out, because I wasn't gonna go to school only to please people and have them tell me what to do with my career."
Particularly describing himself as "a gay man and very proud of it, he adds: "I don't care where I come from, the Spanish Harlem, I have my African roots, and I'm Dominican and I'm proud of my heritage…and I have a kinky job, whatever you wanna call it and I've made a whole career out of it…because I'm like who's gonna tell me 'no', and look at where I am today. I work for the baddest bit** in the whole game."
---
Purpose-led: Brands that Empowers and Inspires!
If like us, you're a sucker for ethically produced, purpose-led brands, you'd be happy to know that the newly minted Fenty skin range is particularly fully vegan – the rest of Fenty Skin line (and not all Fenty Beauty products) – per Ethical Elephant certification- are 100% cruelty free and don't contain any animal-derived ingredients or by-products.⁣⁣

⁣⁣⁣⁣⁣
⁣⁣⁣⁣⁣
⁣⁣⁣
⁣⁣⁣
⁣⁣⁣
⁣⁣⁣
⁣⁣⁣
⁣⁣⁣
⁣⁣⁣
⁣⁣⁣
⁣⁣⁣
⁣⁣⁣
⁣⁣⁣
⁣⁣⁣
⁣⁣⁣
⁣⁣⁣
⁣⁣⁣
⁣⁣⁣
⁣⁣⁣
⁣⁣⁣
⁣⁣⁣