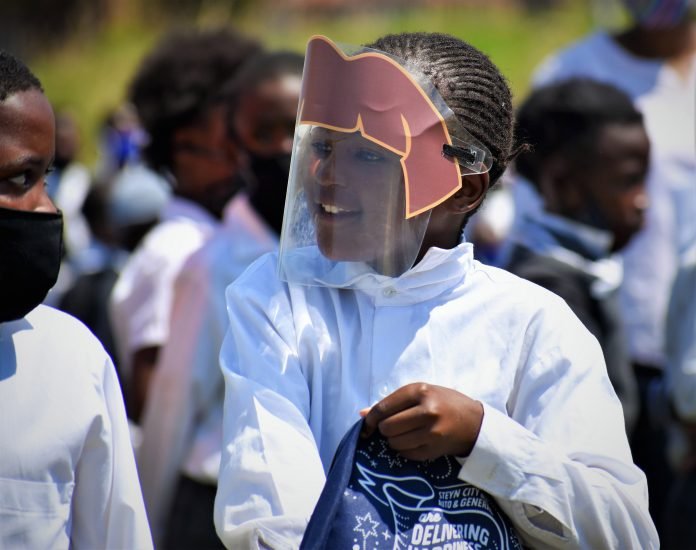 Few people would argue that 2020 has been a bleak year for most South Africans, and that we could all do with some cheer. That's why the Steyn City Foundation has decided to continue with its Delivering Happiness to Diepsloot initiative, thus making good on its promise to deliver 12 500 schools bags packed with goodies to disadvantaged Diepsloot learners ahead of the festive season.
Steyn City Properties CEO Giuseppe Plumari pointed out that this was the ninth consecutive year that the the foundation delivered trucks with school bags to be distributed among Diepsloot's primary school learners.
"Although we undertake a number of charitable initiatives – including, most recently, food drops during lockdown – this is our flagship project and one that is very special to all of us. So many of our workers come from Diepsloot, so it is a pleasure to be able to treat their children to some happiness right in time for Christmas."
The festivities, he added, are always given a little extra sparkle thanks to the support of a handful of South African celebrities. Likewise this year's event – on Wednesday (November 18) – was once again attended by soccer legends Brian Baloyi, Shaun Bartlett, Matthew Booth, young golf star Sim Tiger and Thabo 'T-bo Touch Molete, who was roped in as the MC.
Of course, Covid-19 regulations mean that the organisers had to be cautious this year. With this in mind, and to accommodate social distancing, the foundation will distribute the goods over three days to seven primary schools in Diepsloot, starting at Paradise Bend Primary School.
This year's packages include school bags crammed with balls, colouring books and crayons, and sweets. And, because the year has been difficult for so many, the Steyn City Foundation is supporting not only Diepsloot's children, but their entire families, with packages of essential toiletries.
Delivering Happiness to Diepsloot; more than a feel-good campaign
This year's Delivering Happiness to Diepsloot was more than a feel-good campaign. With the schoolbags manufactured by Just Bags, a company based in Roodepoort, it has contributed to job creation and boosted the local economy, too, ensuring that this year's initiative is as widespread as possible.
"Given that our economy has taken a beating this year, we wanted to do what we could to create opportunities," Plumari said, adding: "Justin Kasongo of Just Bags was perfectly placed to help us achieve our goal. Justin usually employs 65 people at his manufacturing site, but he hired an additional 13 employees for a six-week period to make sure his factory could meet our deadline."
The Delivering Happiness to Diepsloot is always made more memorable thanks to input from its key financial partner, Auto & General Insurance.
"This is the ninth year that we have supported the Delivering Happiness to Diepsloot initiative. We are thrilled to once again bring some festive cheer to the kids of Diepsloot. Auto & General's Corporate Social Investment funding has been dedicated to our neighbouring community of Diepsloot and we hope to make a considerable difference in the community," said the insurance brand's spokesperson Susan Steward.
Further support comes from Bidvest with a generous donation of 12 500 shoes made from recycled medical drip bags. Not only will this donation ensure that thousands of underprivileged school children don't have to forego classroom attendance because they don't own shoes, but also reduce greenhouse gas emissions and protect the climate.
---
*For heads-up on what South African corporates are doing to empower local communities, make sure to visit the NOWinSA Empower SA page regularly!