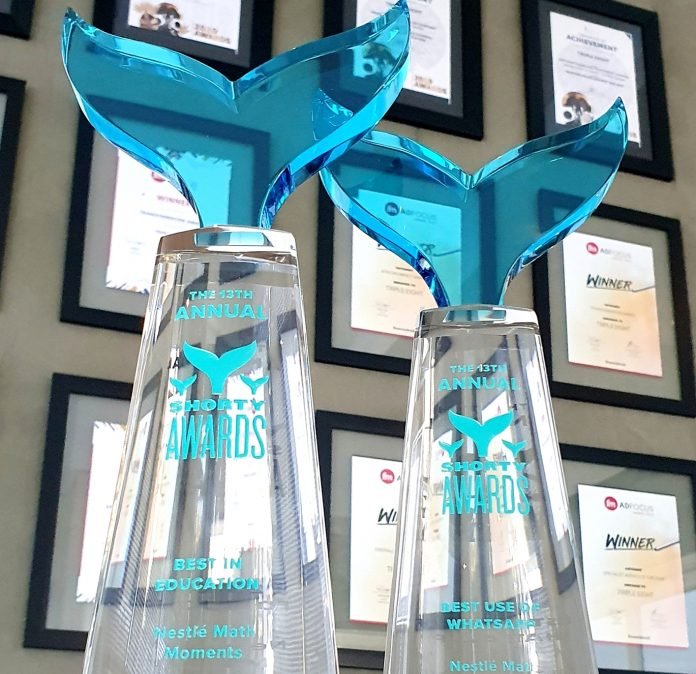 It's one thing to create advertising and marketing that drives business results for your clients. It's quite another if you do so with a clear purpose of connecting with their customers values in a meaningful way.

That is exactly how Triple Eight digital marketing agency ensured it distinguishes itself from its competititors, ultimately winning one important award after the other in a short space of time.

The all-female marketing agency continues to blaze new trails towards the rise of more purpose led brands as it recently became the first agency in South Africa to win the New York Shorty's for their creation of the world's first WhatsApp mathbot named 'Nessie'.
The honor comes just months after the Johannesburg-based agency won the Agency of The Year Award at UK Purpose Awards in September, 2020.
The Shorty Awards are the Oscars of the digital world, and Triple Eight founder Sarika Modi is extremely proud to have represented South Africa so well in two special categories, which seek to honor a program or initiative that addresses education inside and outside the classroom.
"If businesses want to be sustainable, purpose, people and communities have to be factored in," Modi said, adding that "Nessie" is a perfect example of a purposeful campaign which has married technology and innovation in order to make a meaningful impact.
"We are delighted that Triple Eight's work in this area has been recognised by the Shorty Awards and hope that our successes will inspire the next generation of young women of what they too can achieve," she added.
About the 2021 Shorty Awards


Now in their 13th year, the Shorty's were the first awards to honour social media, recognising the most influential, popular, and culturally relevant brands and agencies across social media.
The awards showcase the power of social media as a catalyst for good and its ability to ignite global movements.
For their impactful innovation, the world's first WhatsApp mathbot named Nessie – which is part of the Nestlé Nespray Math Moment – Triple Eight was awarded two special awards; for Best in Education and Best Use of WhatsApp.
As a digital agency that understands that the next generation of consumers demands more from brands, it came as no surprise that Triple Eight was among the main winners for 2021, given the impact the innovation has made in improving Maths skills in South African communities.
As if this wasn't good enough, Nespray sales is said to have grown 16% in month 1 and 8-10% per month thereafter for six months during the campaign period.