Sorbet partners with POWA to spread awareness of GBV
Hair and beauty salon brand, Sorbet, has partnered with People Opposing Women Abuse (POWA) to spread awareness of gender-based violence (GBV) during the annual 16 Days of Activism Against Gender-Based Violence campaign, celebrated in South Africa from November 26 to December 12.

Together they call on South African citizens to paint their nails purple for the duration of the 16 days and to stand in visible opposition to all forms of GBV, including the most common of all, domestic violence.
They are also asked guests to share photographs of their purple nails on social media using the hashtags: #PaintPurple, #SorbetAgainstGBV and #POWA.
The POWA collaboration also coincides with the re-launch of Sorbet Empowering Wo-Men (SEW) Foundation, which aim is to primarily facilitate socio-economic upliftment by providing skills training for both women and men.
Furthermore, the campaign augments Sorbet's brand focus and value to contribute significantly both Breast Cancer and GBV initiatives. This is done through various fundraising programs as well as a donation of proceeds resulting from a call out to all Sorbet guests visiting their stores to donate R10 instore.

"We have partnered with POWA in the #PaintPurple campaign to bring attention to the magnitude of this scourge and to amplify the voices of both women and men who have been victims of this form of violence," says Sorbet marketing executive, Candice Thurston.

The campaign is running in all Sorbet Group outlets, including Sorbet Salons , Sorbet Nailbars, Sorbet Drybar, Sorbet Man and Candi&Co. Sorbet Man has also committed to being an ally, calling on all men to speak out against GBV. Sorbet will also be sponsoring gift packs of their products for women affected by violence, which will be distributed through POWA.

If you or someone you know is or has been a victim of GBV, you can contact POWA on 011 642 4345, the government's GBV Command Centre on 0800 428 428.
Avon contributes funds to support NGO-driven GBV survivor support programmes
As South African continue to commemorate 16 Days of Activism for No Violence against Women and Children, Avon has pledged its support for non-governmental organisations doing its best to fight the scourge of gender-based violence by pledging over R600 000 to help them to fund programmes for survivors of this silent pandemic.
A total of seven organisations will benefit from this donation which has also been topped up by an additional donation of cosmetics and personal care products valued at R120 000.
Avon's support of NGO's comes in the backdrop of a launch of a global campaign by Avon and NO MORE Foundation, aimed at raising awareness about non-physical abuse and provides survivors the tools to mitigate against this silent scourge.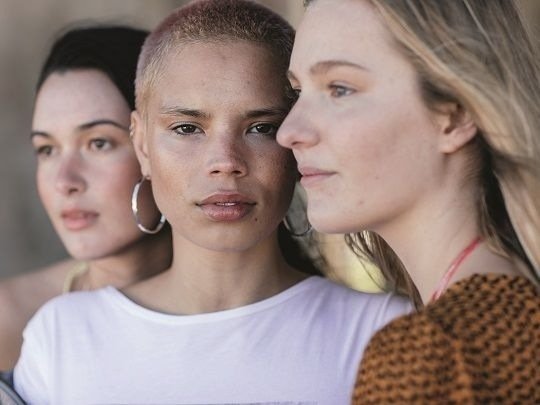 The organisations that received the R600 000 cheque are POWA, TEARS Foundation, Yokhuselo Haven, 1000 Women Trust, the Saartjie Baartman Centre for Women & Children, Ilitha Labantu and Lawyers Against Abuse (LvA).
Despite the financial constraints they operate under, all of Avon's carefully chosen partner NGOs have done a remarkable job to support survivors of gender-based violence, essentially serving as a lifeline to many women. "We hope that this donation will help to somewhat ease the burden and capacitate them to undertake their critical programmes," Mafahle Mareletse, Managing Director of Avon Turkey, Middle East & Africa said.
As part of the global campaign that raises awareness about non-physical violence, both Avon and NO MORE Foundation have launched an online portal to provide people with crucial information about the signs of verbal abuse. Members of the public can find information on what to do if someone they know is in an abusive relationship and where to go for help, including a collection of inspiring stories from survivors of GBV.
As if this is not good enough, Avon is also donating $1.35 million in grants to NGOs around the world to fund support projects for life after abuse, in its 135th anniversary year.
In addition, the global beauty brand is encouraging people to sign an online pledge here to end verbal abuse.
(For previous coverage on Avon from our gallery, click here).
Vuma partners with #R10GoesALongWay campaign for its second phase
Over the years South Africa has witnessed an exponential growth in higher education fees prohibiting thousands o students' access and this problem saw the rise of student protests like the #FeesMustFall movement that began in 2015.
In the beginning of 2021, #R10GoesALongWay, started by Lasizwe Dambuza, in partnership with the Fundi Foundation launched the #R10GoesALongWay movement which helps the most deserving university students with registration fees, giving them access to tertiary education.
The movement, in partnership with the Fundi Foundation, launched the second phase of its crowdfunding initiative in November 2021, which sets out to help even more students overcome South Africa's ongoing tertiary registration fee crisis.
As part of its second phase, the initiative calls on South Africans to help university students who can't afford their registration fees for the next academic year by contributing as little as R10 towards the initiative.
Vuma, one of South Africa's leading fibre providers, was one of the #R10GoesALongWay 2.0 launch event's first sponsors on-board, enabling more community members to connect to the initiative and donate.
Using the same crowdfunding technique as the previous round, which raises small amounts of money from many individuals, the initiative aims to help countless students in their efforts to register for their next year of study and go on to start the career they've worked so hard towards.
"Working with the #R10GoesALongWay initiative was an immediate and natural fit for us, given our commitment to finding solutions to help South Africa's youth achieve their potential," said Mala Suriah, CMO of Fundi.
The #R10GoesALongWay 2.0 launch follows the initiative's successful first phase in March this year, which helped 106 highly deserving students access quality education after raising over R2.3 million.
Wellington hotelier cycles 8 000 km in aid of StreetSmart
Renowned South African hotelier and co-owner of the exclusive 5-star Grande Dédale Country House in Wellington, Angelo Casu, makes every kilometre count on his mountain bike racing for StreetSmart to raise funds and extend a hand to South Africa's most vulnerable children.
StreetSmart South Africa raises funds for street children's education, skills training, and family reunification programmes.
Casu, who has been cycling with a purpose for StreetSmart for over four years now, covered nearly 8 000 km over seven mountain bike races this year, single-handedly raising almost R50, 000.
Not only that, in early December he completed the gruelling Munga MTB single stage endurance race from Bloemfontein to Wellington, covering 1 050 km in 120 hours.
Now instead of giving Christmas presents this year, he's asking members of the public to show their support for his fervour to make a difference to the lives of vulnerable children by donating at: www.streetsmartsa.org.za/donate-to-streetsmart using "every km counts" as their reference.