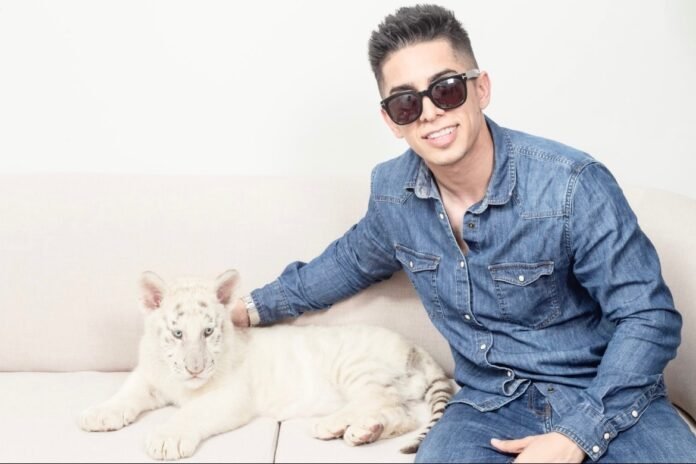 Zareef Minty is a thought leader and innovator whose dream is to use his leadership knowledge and skills to change the lives of millions of people around the world.
Zareef grew up in Matlosana in the North West province. He started his entrepreneurial journey at the age of 16 with the creation of his own clothing brand, and would later supply branded promotional clothing and merchandise for events and conferences to some of South Africa's major companies.
"At the time, I was still in high school. I would leave school early in the morning and drive from Klerksdorp to Sandton just to have a meeting with various corporate representatives and bosses, and come back," he says. "it was a crazy time for me, but I loved it."
Zareef later moved to Johannesburg to study law at the University of the Witwatersrand. During his university days, he served as the Black Lawyers Association Chairperson, Law Students Council Treasurer and the Student Discipline Committee Chairperson at Wits.
In 2014, he also ran for office as the national youth president for a well known South African political party. "It was the best time of my life, I travelled across the entire country, speaking to people on the ground, trying to understand exactly what they needed. I was also fourth on the parliamentary candidate list, meaning if we got enough seats to take four people to parliament, I would have been one of them."
Zareef is also the best-selling author of a self-help/development book titled, 'Empire'. In the book, he teaches the youth about how to develop the right mindset for success, and shares actions to take to achieve the goals they set out for themselves.
While at university, Zareef won SABC's 'One Day Leader' season 4, which was watched by over 3 million people every week. "I lived in a house with five other leaders for a few months. We had good fun, but we also learned a lot," he says about his tenure as a finalist in the TV show.
Zareef was also featured on Forbes Africa 2018 list of '30 Under 30 Africans to Watch'. He also made it into the Mail & Guardian Top 200 Young South Africans, and was crowned GQ magazine's best dressed man twice.
Q&A: Meet Zareef Minty
NOWinSA caught up with the hardworking Johannesburg-based entrepreneur, as he shares his passion for youth development and harnessing young people's entrepreneurial drive.
What do you think about the level /quality of youth Entrepreneurship in SA?
I think our youth are intelligent, hard-working and creative but don't have access to opportunities that can help them build their entrepreneurial mindset, in the right way. We also have a lack of support in South Africa for building start-up businesses. Venture Capital sounds like a foreign term to many wanna-be business men and women, which shouldn't be the case in an advanced country like South Africa.

As a young, successful businessman yourself, what advice do you have for young people looking to start their own business?

My first advice to anyone with a dream to start any business would be to never to look for external validation elsewhere, all the validation they need is within themselves. In simple terms, they need to believe in their own abilities and ideas no matter what they're going through at the time. If they have a strong passion to achieve and become something, they shouldn't doubt it. They should go after it without any hesitation.
Furthermore, young people should know that whatever they do, whether it's starting a business or studying for a big exam, anything worthwhile will challenge them. They have to be consistent in their drive and actions. Persist until you succeed.


To the youth: don't get demotivated when doors close on you because you will get 100 "NOs" before you get 1 "YES", so keep going no matter what.

Don't let the pressure of social media get to you and stress you out. A lot of what you see on social media is not real or accurate. You should use social media as a space to motivate you towards your dreams and goals. Don't ever compare your real life to the superficial social media life because it's not always real. You should always only compete with you to become better than yesterday.

How do young people find mentors?

They must use social media and any other contact source available to look for mentors in line with what and where they want to be. If they happen to find one, they must send as many emails and messages as they need to, just to get their attention. Trust me, having the right mentors in your corner can change your life. My book goes into detail in terms of how to get a mentor and the benefits of having one.

What's your plans for this year?

I want to release my second book which this time around, is all about love and relationships, and it's called, 'The Secret To Finding Love'. I will also be launching my new company called Newsworthy and I will be doing a charity boxing match at the end of the year with a very influential person, with the sole aim of raising funds for the good of humanity.
Where do you see yourself in the next 5 years?
I have a few ambitions; one which would be to build several schools over the next few years. As you would know by now, I really have a deep passion for youth development. The Sustainable Development Goal 8 touches a lot about reducing unemployment rates, especially among young people, meaning we need to start focusing on shifting youths' preoccupation with seeking jobs to now getting them to think about creating marketable opportunities for themselves.
As such, I figured it will be a good thing to invest in building several institutions of learning, with the sole purpose of imparting knowledge to young people, and teach them about that; wealth creation.
Furthermore, I have ambitions of running the municipality in which I grew up in, as the mayor there. Lastly, I would like to list my company, WealthSpaces, on the stock exchange.
One golden tip for aspiring entrepreneurs?

Invest in NFT's and start playing in the metaverse space.

Get to know Zareef Minty; some fun questions

Are you single?

No I'm not, I have the most beautiful girlfriend that I care for and adore. She is the reason why I want to work even harder and do better. I love her so much.

Craziest DM you have ever received?

A woman probably 25-30 years older than me asked me to be her "sugar baby" in Dubai. I blocked her immediately. I also got a DM from a guy asking me to get intimate with his girlfriend because they want to spice things up.

London or Dubai?

Dubai

Favourite food?

Pasta

Favourite sibling (if you have any)?

My sister

One quote that you live by?

Learn from yesterday, live for today and dream of tomorrow.
---
NB: Zareef Minty's column titled, 'Get To Know …', is published on Monday.
◾ Follow him on Instagram: @iamzareefminty