Prashirwin turned 21 on 10 June 2022. Children usually want extravagant parties or expensive gifts. It was a special privilege to celebrate his coming of age with him on his first overseas trip; even though it was to a neighbouring country, one could easily label another part of South Africa.
During a media function last October by Minor Hotels, which operates in 54 countries, Prashirwin was chosen as a lucky draw winner of a stay at Avani Windhoek Hotel and Casino.
Of course, I consoled myself that this young man, until he found his girlfriend, needed someone responsible to accompany him, though, at his young age, he insists he does not want to walk down that road as yet.
My part of the treat was purchasing our tickets for the flights to Windhoek and back. It proved a delight. As we boarded, the counter assistant surprised us by bumping us up to business class on the cosy Airlink flight. Seated in the second row meant we received a hot face towel instead of the chemical-soaked wet wipe. Instead of plastic cutlery, our meal came with stainless steel cutlery. It was a decent spread too. For Prashirwin's first international flight, it was good to travel in a fair bit of style.
Arriving in Windhoek, it was warm compared to the chilly Johannesburg we left behind.
Customs was a breeze. A cheerful official ushered both of us through effortlessly. When attending to Prashirwin, she told Prashirwin we looked like brothers. He is young and handsome with the world at his feet. With my aches and pains, I feel in the departure lounge, though I have numerous tasks to complete before evening, thinking of putting my feet up.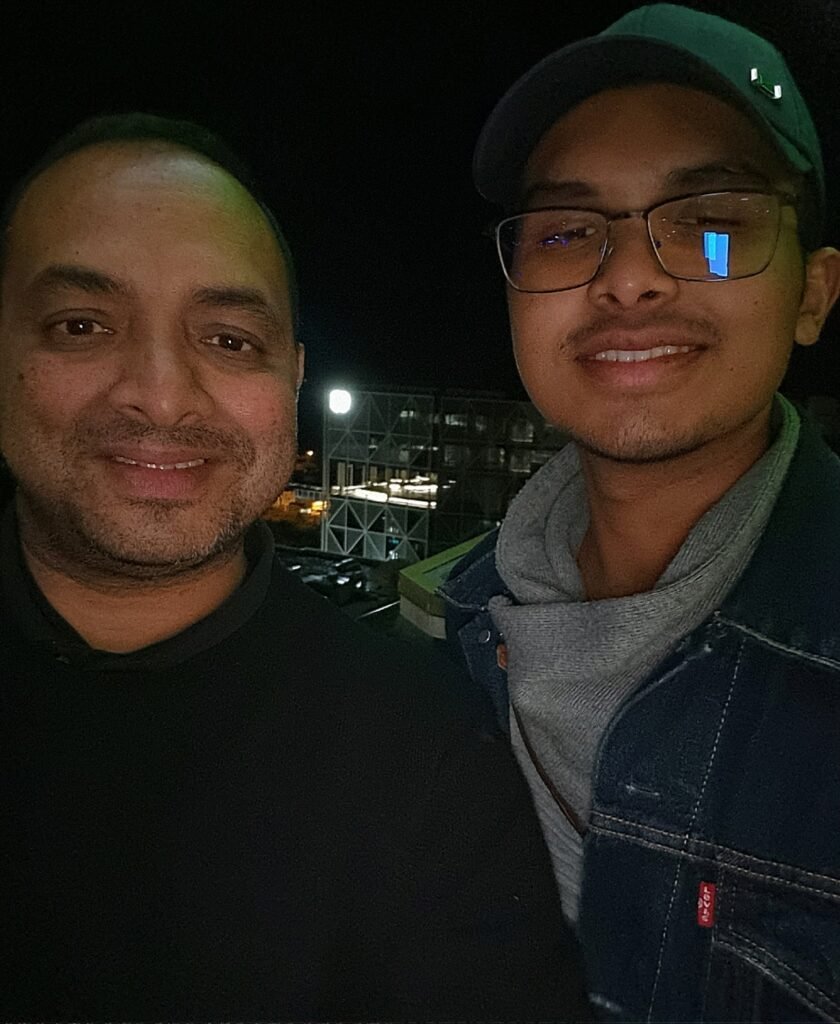 Our driver, organised via the hotel at the cost of under R500, took us on the chirpy 40-minute ride from Hosea Kutako International to the city. He never stopped talking. By the time we arrived at Avani, one could have easily pretended to be an expert on the politics of Namibia.
The cheerful receptionist gave us a royal welcome. She also asked if we were brothers. The first time I can accept, one must not argue with customs. This could not have been a coincidence. We laughed. Both of them needed glasses.
After the seamless check-in, we headed to the Stratos Restaurant on the 15th floor, with exceptional views of the city surrounded by gentle mountain slopes before Eskom-style darkness kicked in. Prashirwin ordered a medium-rare 250-gram Rump Steak with steamed vegetables and a creamy mushroom sauce. I asked for well-done chops, which were not, so I kindly asked if they could burn it a tad more, which they kindly did. Still trying to figure out what it is with the inability of chefs to understand the meaning of well done.
The other day I ordered Nandos from Chillie Lane; yes, I am a sucker for punishment; this after my awful Nandos Waterfall Mall of Africa experience. I asked for well-done extra hot chicken, along with spicy rice. You would have thought the skin would have been crisp because that means well done. But no, their entire chicken was raw, and the skin looked awful, like something one does not even give to a beloved pet. The spicy rice was anything but – and lacked salt.
Nandos may be global, but the food has gone to the dogs. Montana had a feast. At least in Windhoek, they got it right the second time around. Prashirwin thoroughly enjoyed his medium rare steak.
After dinner, we headed to our room, tastefully furnished with two double beds, a television, a cosy shower and a bathtub. Some views of the city were available from the fifth floor. The best was the aspirational Hilton, about 100 metres away. We had a few cups of tea. Prashirwin is an addict. At about 11pm, he decided to work out in the 24-hour hotel gym.
This gym was well-kitted out with cycling and weight training equipment for a young man with energy to burn. There was a casino near the gym, but I opted to join him for a walk on the treadmill after a late meal. No gambling on the heavy stuff for me, even if I looked like his brother; I do not have the muscle mentality of this young champ.
The following day, we enjoyed a hearty breakfast at the Dunes. Even in Windhoek, one could not escape the work calls. Once done, we hit the town on a walkabout, fascinated at how clean the streets were. This is a place to clock those miles for one's health steps.
For tourists needing a guide, one can go on Windhoek Day Experiences involving a three-hour city and township tour, Nam Flava Township Tour, hiking, walking tours and carnivore feeding.
Or talk to the helpful hotel concierge and set off on your own as we did, arriving first at Robert Mugabe Avenue to admire the imposing Church of Peace, the Christ Church, a historic landmark and oldest place of worship in Windhoek. The mandatory selfie with the birthday boy was a click away.
Next to the place of worship is the imposing Independence Memorial Museum which is meant to mark the country's transition from colonial to democratic rule. What would it be without a statue of Sam Nujoma, the Namibian symbol of resistance, who though he has long given up political reigns, keeps an iron fist on the South West Africa People's Organisation, officially known as the SWAPO Party? Like South Africa's ANC, which has been in power since 1994, Namibians have yet to taste anything other than Swapo since 1990.
Namibia is a modern-looking city with a vibrancy about it that is Mzansi. But then, would one not feel at home when most of the names we are familiar with have a strong presence here? Nedbank, Old Mutual, First National Bank, Standard Bank, and although I didn't see the Africanity folk, they're here too. Ditto Checkers, Mugg and Bean, Ocean Basket, and many other brands known to us.
Thirsty after our jaunt through the city, we headed for the rooftop bar at the Hilton, where one has a panoramic view under a welcome sun. My son had tea while I managed the thirst with something on tap. Replenished, we continued walking through a less busy side of town, seeing second-hand car dealerships and a store that resembled but was not cash crusaders.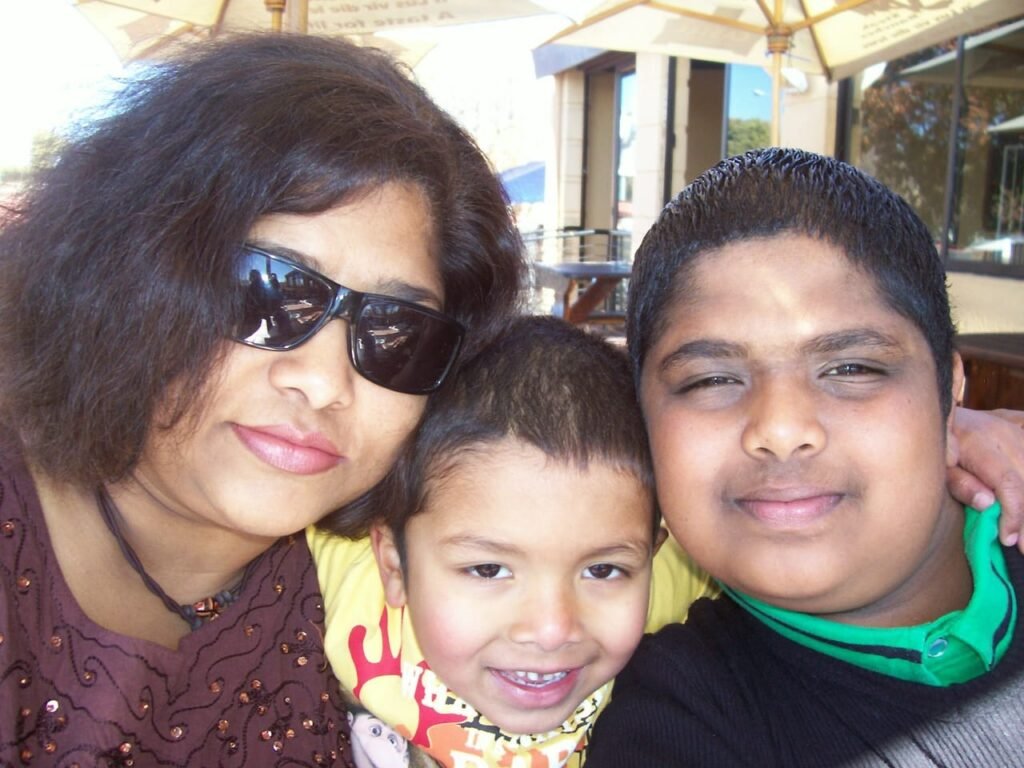 Next to the hotel was a mall with anchor tenant Checkers. We had a starter meal made up of fish and chicken and broccoli salad. Hungry a little later, we returned to the hotel having dinner at the Pantry at Avani. I ordered chops (again), and the birthday boy had something chicken. Friday night, we opted for the dumbbells of the gym.
On Prashirwin's birthday, we chilled, walked and talked and spent it eating. Breakfast, lunch and dinner were the order of the day. The aspirations of my 21-year seem light ahead than when I was in that zone.
Dinner was a simple sit-down in style with inspiring city views overlooking the pool on the 15th floor. Prashirwin stuck to his rare, medium favourite while I opted for the day's soup and pasta. Prashirwin didn't want any song or cake. On our last night at the gym and the next day, we had breakfast at the Dunes before making tracks to the airport for our afternoon flight. The customs official did not think we looked alike as my greying beard began to protrude. But she wished him and thanked him for spending his birthday in Namibia.
The Airlink flight was economy. At least he began his first flight beyond our borders in business class. This is our travel reality.
Windhoek was short sharp and memorable. We walked and talked a lot. And ate a bit but made sure we left extra kilos at the Avani Windhoek Hotel & Casino gym.
This slick city hotel is easily accessible by car and air. A break, no matter how close, is something special when you have good company. 10 June was a special day! Happy birthday, Prashirwin. Let's do this again – somewhere else in our beautiful Africa.
---
*Edwin Naidu is a communications professional with a love for writing.