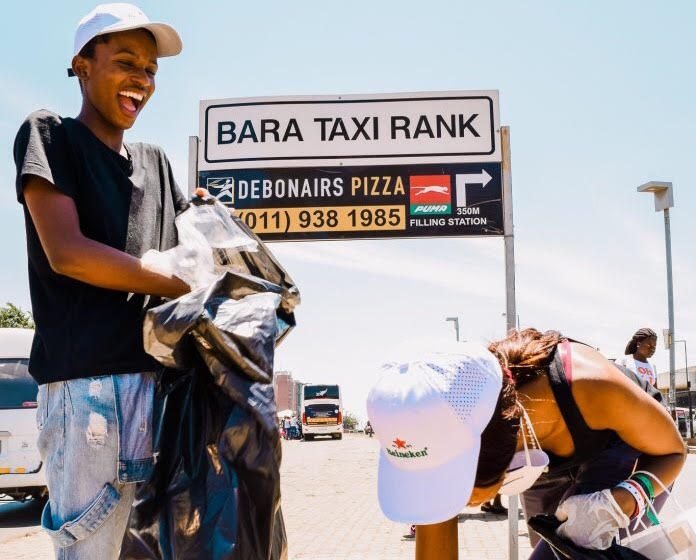 AS WORLD leaders,
  goodwill ambassadors and music fans assembled at the FNB Stadium, today (Sunday) for the much anticipated
2018 Global Citizen Festival: Mandela 100
, Heineken ensured it stays ahead of the pack and served as a better example of Madiba's selflessness and most of all, his shared spirit of purpose.
The world acclaimed beer brand partnered with Global Citizen on a recycle drive to clean up the Bara taxi rank area in Baragwanath, Soweto on Saturday, with the aim to make a difference to the lives of local residents.
A call for community members to carry out random acts of kindness was announced during a live broadcast on YFM weeks earlier,  which resulted in a positive feedback. As a reward, Heineken gave away 10 Global Citizen Festival double tickets to members of the public to experience the most anticipated international music festival of the year.
"The Global Citizen's narrative is strong and intentional. It promotes community advocacy and self-responsibility qualities which Heineken is passionate about," the company said in a statement. This is in reference – in part – to Heineken's global campaign, #WYDND (When You Drink Never Drive), which while it's mainly focused on changing consumer behavior towards drinking and driving, possesses a strong sense of personal responsibility for change.
As such, the company partnered with Uber to further drive awareness around this at the concert, which was headlined by megastars Beyonce, Jay-Z, and Ed Sheeran, Jay-Z,  and Usher. 
The concert, which carried on until the wee hours of Monday morning was the climax of a year of events celebrating the centennial of the late Nelson Mandela's birth in 1918 and is part of a campaign to tackle poverty, child malnutrition and boost gender equality.