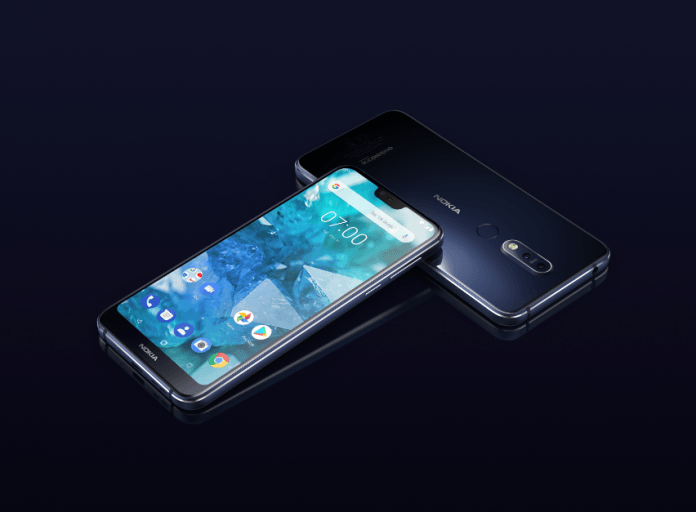 It really is hard to keep up with the times when it comes to deciding which latest smartphone to pick given that most brands are now in the habit of teasing new flagships within a really short space of time – which in all honesty can be boring if there isn't really anything much exciting – upgrades wise – to write home about.
Just like two of our favourite premium smartphone cousins, Samsung (S/Note series) and iPhone, much the same can be said about Nokia, which is just less than a month after introducing the new Nokia 7.1 range – in South Africa that is – is forcing smartphone fans to think twice before opting to buy this highly promising budget device Nokia, given this week's announcement of another flagship premium mid-range debut, in the form of Nokia 8.1.
While the announcement only affects mainly European consumers for now, for those not in the know, the Nokia 8.1 is a mid-range device positioned as a successor to last year's big seller, Nokia 7 Plus. It boasts the much improved Qualcomm Snapdragon 710 chipset which comes with a 20% increase in overall battery and graphics performance, compared to the 7 Plus at 660 (Snapdragon) and slightly slower for the 7.1 range at 636. While the 8.1 is set to be Nokia's most exciting ranges yet – from a hardware perspective, as well as larger storage and lasting battery life – the Nokia 7.1 really has some exciting features for those looking for affordable alternatives, with premium features at the same time.
Much like its predecessors, Nokia 7.1 also runs Google's Android 9 Pie, which comes with a plethora of AI (Artificial Intelligence) features for better battery performance and iPhone X like navigation.
As for the display, while one never really prioritizes a design when opting for a midrange phone, which has seen some interesting renaissance over the years, Nokia 7.1 comes with 5.84-inch, industry first "PureDisplay" screen technology with a 19.9 ratio.
Made from an aluminum frame and covered with glass on both sides, its premium aesthetic feel could easily be mistaken for some of the most expensive smartphones in the market today, and that alone is a big plus for those concerned with a phone design. In addition to the phone's ultimate HDR capabilities (powered by Pixelworks) with a rich, vibrant display for ultimate gaming experience is an advanced imaging experience, with a dual rear 12MP camera and 8MP for the front with ZEISS certified Optics, an industry leader in high-end photography. The device comes with 3GB of RAM and 32GB of storage with support for expandable storage of up to 400GB, via a microSD card. The battery alone at 3,060mAh is quite impressive and does support fast charging.
On what the Nokia 7.1 has to offer, HMD Global Chief Product Marketing Officer, Juho Sarvikas, had this to say: "Nokia 7.1 is our fourth smartphone running Android 9 Pie, alongside Nokia 7 plus, Nokia 6.1 Plus and Nokia 6.1 with even more to come by the end of the year. We're really proud to be able to ramp up our rollout and offer even more Nokia smartphone users the chance to get a slice of Android 9 Pie that's pure, secure and up to date."
Nokia 7.1 Key features
Key features of Android 9 Pie
App Actions: Helps get things done faster by predicting the user's next move and displaying the right action
Slices: Identifies relevant information of favorite apps to make them more easily accessible when required
Adaptive Battery: Uses deep learning to understand usage patterns and prioritize battery power on important apps
Adaptive Brightness: Automatically adapts phone brightness by learning from user interactions with different settings
New system navigation: Features a single home button that provides intelligent predictions and suggestions (user enabled)
Digital Wellbeing features available now via Play Store
Dashboard: Highlights screen time and phone usage including how many times the device has been unlocked and the number of notifications received
App Timers: Set time limits on app usage
Wind Down and Do Not Disturb: Set a daily schedule to get ready for bed. The screen fades to grayscale, while Do Not Disturb silences notifications for
a restful sleep. Users can activate Do Not Disturb anytime they want to disconnect.
Price: R5 999 on pay as you go
from various network providers