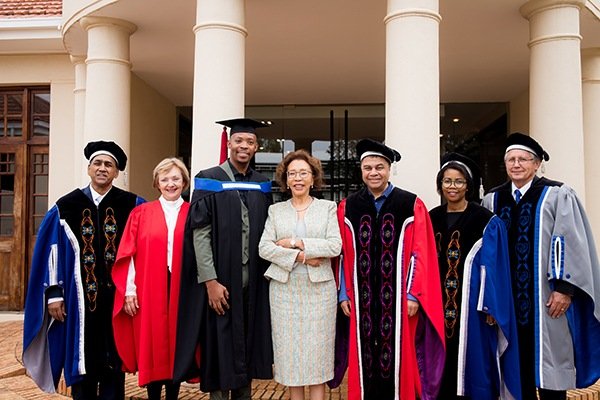 South African news
Thapelo Chacha, a graduate in the Department of Urban and Regional Planning, received his Honours degree in Spatial Planning during a special graduation ceremonies of the University of the Free State (UFS).
Born and raised in a small town called Marquard, the elated new graduate is also the student who brought Dr Tshepo Motsepe, the First Lady of South Africa to Kovsies. "I am fearless and I understand my calling for greatness. I stand and advocate for social justice and I am not scared to challenge any form of injustic," he says adding: "I hate people who abuse power and I am no friend of mediocrity. I speak my mind."
Chacha met the First Lady several years ago through Dr Vuyelwa Manzana, who was his mother's doctor at the time – after dropping out of university due to a financial crisis. "I was handed over to the lawyers, with a debt that accrued over three years. I knocked at every door you can think of – with no luck. One day I got a call from a lady who introduced herself as Mme Tshepo, asking me to go to university," she further recalls. "I laughed, because I knew my debt was too big to allow me to study again. She insisted, and when I arrived at the UFS, my outstanding debt had been paid and I was able to register. The same Mme Tshepo called to assure me that she will pay for my tuition, meals, books, and accommodation. I did not even know that she was the wife of Mr Cyril Ramaphosa, who would later become the Deputy President and now the President of the country."
She adds: "Mme Tshepo sponsored me from her own pocket until I became part of the Cyril Ramaphosa Education Trust (CRET)."

A favour returned!
Ahead of his graduation this week, Chacha received further good news after the First Lady personally texted and called him about his graduation information so she could attend. "You can imagine the excitement and the shock," he says. "Although I have met the First Lady many times, it will be the first time that I will introduce her to my family. She is taking me and my family – my mother and my grandmother – to lunch after the ceremony. I see that as a favour of God upon my life."
Prof Francis Petersen, UFS rector and vice-chancellor at a meeting with Dr Motsepe and Chacha said: "Access to university is crucial. However, we would also like our students to exit with a qualification. This is how a bursary like this one from CRET helps. We would like to exit students that contribute to the economy."
Chacha is now doing his master's in urban and regional planning. He's also looking forward to registering with the South African Council for Planners (SACPLAN) as a professional town planner at the end of his studies in a few months.
"I see myself joining a town planning division anywhere in South Africa, dedicated to changing the living conditions of ordinary citizens. Spatial planning speaks to the heart of land use and ensures that the land is used and occupied in a manner that is beneficial to everyone who needs it."