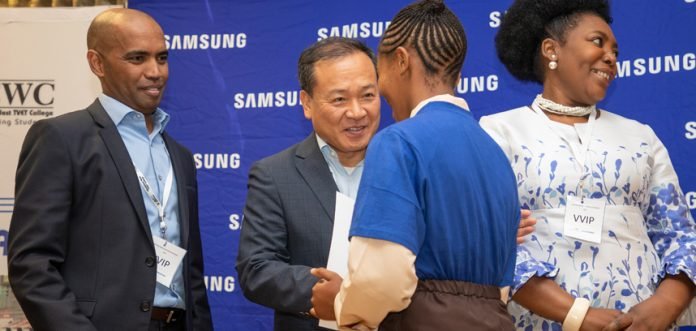 Given the efficiency that emerging technology can enable, many companies have for years been readying their workforce for future jobs created by the Fourth Industrial Revolution. With the South African youths mostly affected by unemployment, it doesn't help either that a larger percentage of graduates often lack basic job skills that most employers place as high priority, leading to some businesses often having to resort to in-house training to solve this problem.
This week, Samsung led the way by conferring certificates of completion to 165 top performing students from its Midrand based engineering academy, who graduated at the Ekhuruleni West College in Boksburg, Johannesburg.
The graduates are part of Samsung's on-going vision to develop skilled electronics technicians and engineers by bridging the current skills gap that often come as the result of lack of resources. "Samsung's engineering academies across Africa have already seen thousands of students graduate with hands-on, practical skills at no cost, enabling them to move into jobs after they graduate," said Samsung Africa director of customer service, Nithia Pillay.
The ceremony was attended by CEO & president of Samsung Africa, Sung Yoon, the academy's acting principal, Ntombizodwa Dangazele and representatives from the Department of Higher Education and Training, Department of Basic Education, various training institutes and parents. The message of encouragement to the latest group of graduates was delivered by the much loved television presenter, Dr Musa Mthombeni.
Breaking down barriers to success
Assisting young people with the latest technological skills resonates well with Samsung's corporate social responsibility's theme 'Education for Future Generations', effectively aimed at helping provide deserving students with skills and confidence needed to supercharge their careers.
In addition to helping change the narrative around what it means to be an artisan and break down the barriers to success for thousands of youths, the programme has been equally praised for providing the much-needed platform for women to enter into trades otherwise reserved for men.