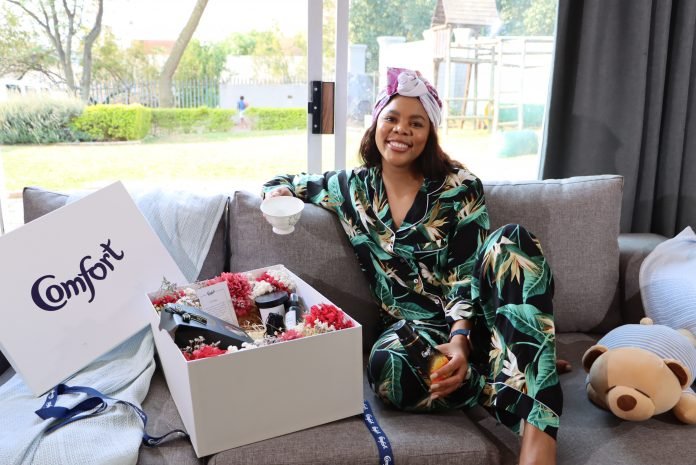 Throngs of consumers love the long-lasting softness and freshness fabric softeners provide for their clothes.
Now thanks to several studies that have unlocked the important role fragrances (sense of smell) play in the psychological effects of mood, stress and working capacity, Comfort South Africa is encouraging consumers to grab one of the latest Perfume Deluxe range, and do just that; take a step back from their busy schedule to celebrate and share their small wins with them.
Whether it is starting a home garden, ditching those bad eating habits or making up with a loved one, rewarding yourself when you achieve something – no matter how tiny it may seem – can do wonders to your spirit.
"Studies have proven the power of fragrance to lift our spirits, and that is why we're encouraging you to celebrate those special moments which bring everyone a sense of comfort," said Comfort South Africa brand manager, Ilze Visser.
To help you chase the blues away and get you smelling like success, Comfort South Africa is giving away a year supply of the Comfort Perfume Deluxe to 2 NOWinSA readers/followers.
Win big with Comfort South Africa & NOWinSA
Inspired by the latest trends in fine fragrance and craftedby perfume experts, the range comes in three variants: Divine Petals, Heavenly Nectar and Lily.
The luxury fabric conditioner not only makes your clothes soft and smell fresh, but cares for your clothes by protecting their colour, maintaining and making them easier to iron.
To stand a chance to win a yearly supply of Comfort Perfume Deluxe, share your small wins or Comfort moments and tag Comfort_southafrica on Instagram using the following 3 hashtags:
#SmellLikeSuccess
#MyComfortMoments
#LonglastingFragrance
---
*For the latest brand focused South African news and consumer insights from around the world, click here!