In a world that remains traditionally dominated by men, Cash Crusaders female franchisees, Ceagan Hendricks and Susan Marx, prove that women have what it takes to become successful entrepreneurs, this as we continue to celebrate female movers and shakers this Women's Month.
Ceagan Hendricks, Cash Crusaders franchisee
Hendricks, owner of the Watergate Cash Crusaders store, worked for the multi-national empire for 17 years before she was offered an opportunity to open her own store as a joint venture franchisee.
As someone who used to conduct a significant amount of training for franchisees, she understood the business all too well and used this to her advantage when opening a store of her own. And like many other women in her position, Hendricks has been expertly trained and empowered to run a successful businesses in significantly competitive environments that requires commitment, and a multitude of skill sets to be able to do. 
She advises women embarking on their own entrepreneurial journeys to "take criticism seriously, but not personally and learn from them".
Susan Marx, 65 (Cash Crusaders )
Marx, from Somerset West opened her store 18 years ago and urges aspiring female entrepreneurs peers never to think 'men are better'.
Her success story goes a long in proving just how committed Cash Crusaders is in ensuring gender diversity in the workplace, and that women are just as strong in business as their male counterparts.
'Empathy' she says, is what differentiates her from the rest, and believes that her team – some of whom have been with her for more than a decade – is pivotal to her success.
With women known to play a delicate balancing act between work and family, just as they are primary caregivers in their immediate communities – now more than ever as we battle the global coronovirus pandemic – Marx is of a opinion that for women to be successful in business, they need to be both passionate and committed to their work.
Better still, at the ripe age of 65, the no-nonsense business woman has no intentions to slow down anytime soon. In fact she says that she wishes she'd opened her store 10 years earlier!
Cato Louw, EWN sportscaster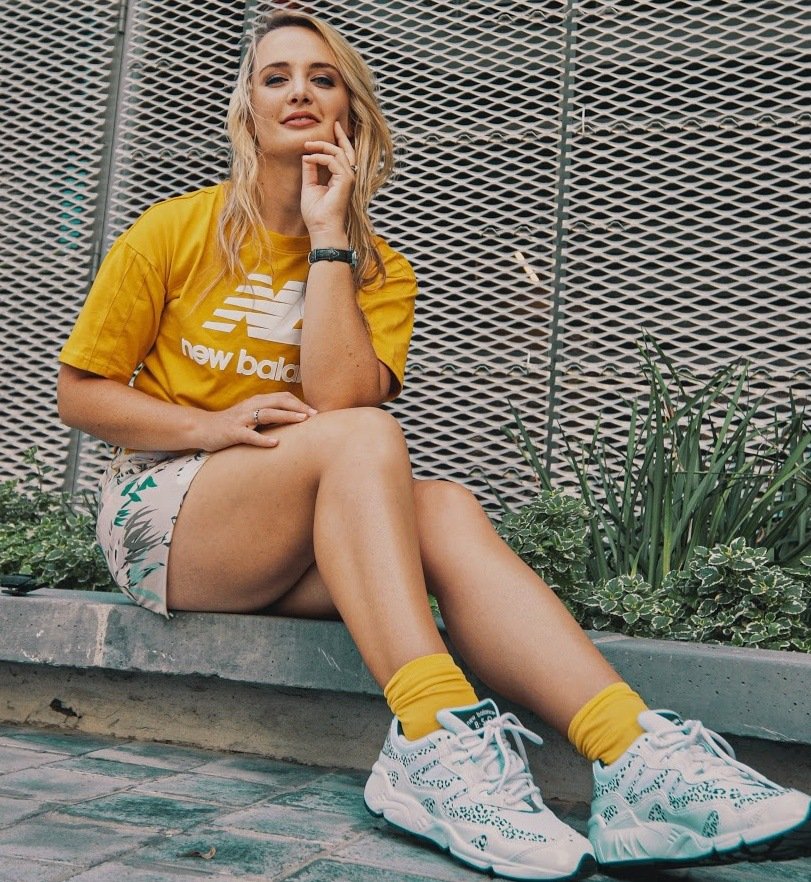 TV and Radio personality, Cato Louw, has been defying stereotypes in the sports industry for the last 8 years since becoming one of South Africa's youngest female sportscasters.
As one of the voice behind Eyewitness News (EWN) sports bulletins on KFM's Weekend Breakfast Show and CapeTalk's John Maytham Show, she's clearly passionate about sports, and more so its power to bring people together. "It's about that impossible victory … that moment you get to share with millions of people across the globe no matter your background, income, social status, race, gender, whatever 'limit' you have, it's forgotten."
Sport has always been part of her life; from back when her father was an avid tennis player, and played for Border. Not to forget to mention the many weekends she spent next to the tennis court with televised rugby matches afterwards.
"Fast forward to 2007, when the Springboks won the Rugby World Cup for a second time and right there, I decided I wanted to be part of something like that, whether it was part of the team or behind the scenes," she said.
After gaining admission for a Sports Science degree at the University of Stellenbosch in 2016, she immediately joined campus community radio station, MFM 92.6, where she hosted a show called, 'Halftime', which became South Africa's first lunch time sports show hosted by a female.
She served a 6 year tenure with the station before joining EWN Sport as a freelance sports presenter. Something she learnt so far is that "nothing happens overnight and if you really work towards something … I mean really put your shoulder to the wheel, it will happen maybe not at the time you think, but it will happen," she said.
The 28-year-old also serves as the brand ambassador for Falke South Africa, a leading sock and hosiery brand known for its long legacy of giving back to a broader community, as seen through its philanthropic collaborations with Cansa and Autism Western Cape among others.
About her long and mutually beneficial relationship with Falke SA, which she describes as a warm, welcoming and accessible brand 'without compromising on quality', she had this to say: "The team has literally stuck with me since day one! I only just started as a full-time sports presenter on campus radio and they were there treating me like I've made it already! I felt welcomed and important, and that has never changed.
"So, I would say their loyalty and unwavering support has been the highlight for me."
*For brand focused South African news and heads-up on the great things your favourite lifestyle brands are doing to empower local communities, make sure to visit the Empower SA page daily!