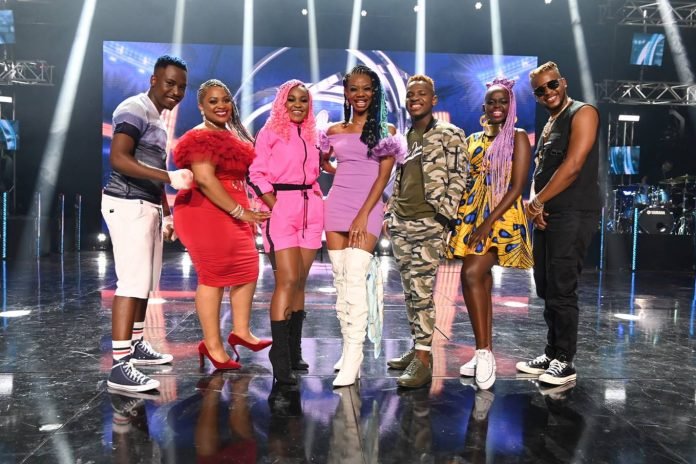 "The 'showstopper week' themed performances are regarded as the most anticipated showoffs in the entire Idols SA competition, with contestants having to prove that they can do more than just belt out a powerful song.
This is where each contestant was expected to bring nothing but fireworks and stage props, along with an army of dancers to show they can command the stage. This past Sunday, the top seven certainly stepped it up to give the audiences an all-round impressive show of their lifetime.
This week the hardest part of the show – the elimination round – was dealt with at the very beginning of the show, with Jooma receiving the least number of votes and as the result had to go.
For the remaining seven, the Idol SA moniker was theirs for the taking. Although the 'showstopper week' got off to a shaky start, with both Zama and Mr Music receiving lukewarm receptions from the judges, it was Ndoni's performance, however, that seemed to have unequivocally impressed the judges.
Her take of Beyoncé's 'Already' ticked all the boxes, with both Somizi and Unathi agreeing she "did the best you could and did it beautifully."
Bongi's performance of Beyoncé's 'Déjà vu' was, according to the judges, another highlight of the evening, with Randall saying It's going to be hard for someone to top her.
Brandon and ZanoThando received mixed reactions for their performances of Post Malone's 'Circles' by Post Malone and ZanoThando's performance of Chris Brown's 'Loyal' with the judging trio agreeing it could have been better.
Luckily, Ntokozo was there to save the "lukewarm" showstopper evening from being just another as she performed Dua Lipa's 'Break My Heart'. Randall said the best had been saved for last, with Unathi wholeheartedly agreeing. Somizi too was blown over, heaping her with his famous "whoo shem!". "That was everything, you worked it!!" he shouted.
Idols SA (S16) top 7; voting lines open til November 3
To make sure that your favourite contestant makes it into the top 6, viewers have until Tuesday (November 3) to cast their vote.
This Sunday (November 8), viewers will get to see the top 6 take to the stage to fight for their place in the next round.
To see who will be the last Idol standing, make sure you watch Idols SA season 16 is on Mzansi Magic ( DStv 161) every Sundays at 5pm.
For more information visit our website: http://www.idolssa.tv.