As expected, the first set of the sizzling hot singletons – five boys and five girls – from across South Africa have set tongues wagging as they entered the luxurious villa for a six-week bae-cation.
Coming just days after another eargely-awaited South African first, The Bachelorette SA, Islanders will 'couple up' as soon as they arrive on the island based on first impressions.
Throughout the series, there'll be regular recoupling, in which those Islanders that are coupled up can choose to remain with the current partner or swap and change suitors not necessarily based on love, but as a strategy to stay on the show as they undergo several dates, tasks and challenges.

Anyone who's left single after recoupling is dumped from the villa and subsequently eliminated from the show. In the final week, the public vote for their favourite couple to win the 1 million rand prize.
Meet the first-ever South African Islanders
Asad Boomgaard
Asad, a 24-year-old Personal Trainer from Johannesburg enjoys surprising the people he loves and once flew cupcakes from Cape Town to Johannesburg for a love interest, only to end up friend-zoned. Asad enjoys being active and outdoors and is looking for "…a good woman to keep me grounded,".
Follow Asad on Instagram: @asado_b
Durang Atembe
The charming 22-year-old personal trainer Durang from the Mother City is confident that he's what the ladies are looking for. "I've got swagger, everyone said that I should join the show, I'm going with it and I'm interested. So, it will be a blessing having me on the show." He values the small things in life and knows that being humble and working hard gets you places. When he's not in the gym training his ripped body, Durang spends his time taking road trips and listening to good music.
Follow Durang on Instagram: @durangatembe
Erin Japhta
22-year-old Erin, from Cape Town, is a marketing student who studies in Los Angeles. She believes that Love Island is her second chance, stating: "I've moved around a lot; I somewhat believe I deserve another chance at love and really hoping this is my opportunity." Erin has lived in Indonesia, Los Angeles and now Cape Town. She's a social butterfly and enjoys singing, going to the beach, hiking, hanging with friends, games nights, and fun night clubs.
Follow Erin on Instagram: @erinjaphta
Ian De Beer
Bringing Afrikaans boy charm to the Island is 24-year-old Ian. "I'm confident and funny. I love awkwardness." Ian is a law student and as a bodybuilder, was determined to bring a ripped torso to the Villa, "I will come shredded for the show – I will have the best body,". He is looking for a mature girl because he has two older sisters and that is what he is used to. He knows his way around the girls and believes he won't struggle to get them to like him. His hobbies are working out, hiking, running and gaming.
Follow Ian on Instagram: @iandebeer_
Jay Freemantle
Sandton "social media star", Jay, is 23 and the founder & CEO of a digital marketing agency and firness influencer. "I hate the term influencer. An influencer is someone like Gandhi and Mandela, not a social media 'star'." Dark eyebrows are a massive pull for him. His most significant relationship was with his high school sweetheart. Since then, he has not had a significant relationship and is hoping that 'Love Island SA' will change that. Apart from being a fitness fanatic, Jay also spends his time cooking and doing photography.
Follow Jay on Instagram: @livingwithjay_
Kaige Bertasso
Kaige is a feisty 21-year-old professional tennis coach from Durban. "People confuse my confidence with arrogance – I love to boast." In 2017, he experienced a life-altering event when his motorbike accident ended his professional tennis career. The experience taught him to never give up even when his whole world turned upside down. He will be loud and proud in the Villa and believes he has the best banter with looks to match.
Follow Kaige on Instagram: @land_of_kaige
Millie Terblanche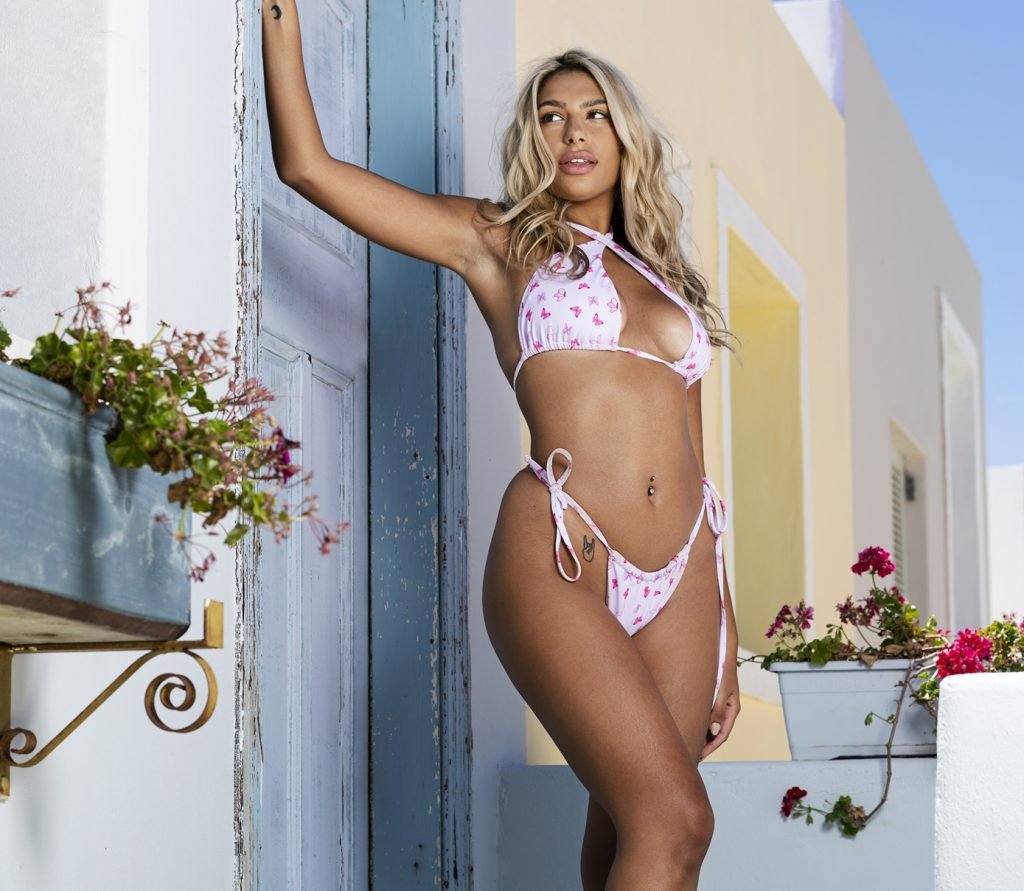 20-year-old Millie is a quirky and outgoing Influencer from Cape Town. She's here to entertain and bring about loads of banter. "I am funny… but dumb… but not dumb… but funny… but dumb". At 17 she left her hometown to study in Cape Town, lost lots of weight and began taking care of herself while also creating a life that she loves. Millie entered the show to find love in a new and interesting way. As a creative, she enjoys creating art and watching and creating YouTube content, but also a good party!
Follow Millie on Instagram: @millieterblanche
Rochelle Van Vuuren
Stunning Demi Moore lookalike, Rochelle, is 23 and from Pretoria. She is a digital creator, qualified in BCom strategic management and also heavily involved in the fitness world. She competed in IFBB (International Federation of Bodybuilding and Fitness) in 2019 and won her first competition. She obtained her Gauteng North Colours and went on to compete for South Africa. This has taught her a whole new side to discipline. Her weakness is that she forgives too easily, which may explain why she stayed in the past with with a partner who cheated on her many times, before calling it quits.
Follow Rochelle on Instagram: @rochelle_vv
Summer Da Cruz
A Hooters girl! Summer (21) hails from Johannesburg. She is a professional dancer and has worked on MSC Cruise liners, where she got to visit several beautiful and exotic countries. "I've travelled the entire world and still haven't met someone who sparks something in me, I'm sure he's in South Africa… somewhere." She is funny and clumsy but thinks on her feet. As a Love Islander, she brings her competitive streak and bubbly personality to the table and is looking for the guy with the good teeth…
Follow Summer on Instagram: @summer.dacruz
Thimna Shooto
26-year-oldThimna from Mossel Bay is confident and charismatic. She considers the current dating world very superficial and is looking for a real connection. "I'm tired of these rats, and I want a real man." She says that her intelligence and independence can be intimidating to some men. In 2018, she was in a long-distance relationship that taught her a lot about knowing her self-worth. She is not jaded and not afraid to express her feelings. Go, Thimna!
Follow Thimna on Instagram: @itsmythimthim
NB: Additional Islanders will be introduced and announced as the season progresses.
Hosted by renowned South African actress Leandie du Randt, 'Love Island SA' will air Mondays-Fridays at 9.30pm on M-Net (DStv 101). Viewers can watch unseen-bits just after the 8pm movie on Sunday evenings.
For the first time DStv will introduce early access, giving Premium customers a chance to watch 'Love Island SA' on Catch Up and an Explora connected to the internet, at no cost, an hour before the show airs on M-Net from episode 2 (Monday, March 1) to episode 35 (Friday, April 9).
---
For brand focused South African news and juicy titbits on the latest slate of new films, TV dramas and realities, make sure to visit the NOWinSA/Entertainment page regularly!