With one out of three women worldwide lacking access to safe toilets, it's never been more important to step up efforts as a nation to ensure women and girls are not at risk of assault and rape simply because they lack a descent sanitation facility.
Likewise, in her recent Instagram post, which has garnered over 200 000 views and counting – from fellow celebrities and members of the public alike – Scandal actress Mapaseka 'Pasi' Koetle-Nyokong has touched on some of the issues women have to contend with when having to use a public toilet, like standing in long queues, and at times squatting over a toilet seat instead of sitting down to avoid disease causing germs.
While the post (as seen above) garnered mixed, interesting responses, many agreed that the sanitation challenge requires concerted effort and called on all South Africans to spare no effort to bring dignity and safety to women and girls, particularly in the inner city, as one user (Amanda Nyigwa) pointed outed in her response, stating: "This is a matter so close to my heart, I am emotional that someone who has a wide reach and following is bringing awareness to it," @amandanyigwa shared, singling out the glaring absence of proper sanitation in busy CBDs and rural towns. "Imagine the number of women who work and trade in our CBDs. Just imagine the challenges they face on a daily basis, and even worse when is that time of the month."
She said she's happy, however, "that awareness is growing to keep our CBDs inclusive", all thanks to impactful initiaves such as the #HarpicHygienicForHer campaign, which proves even more important now with the specter of COVID-19 hanging over us.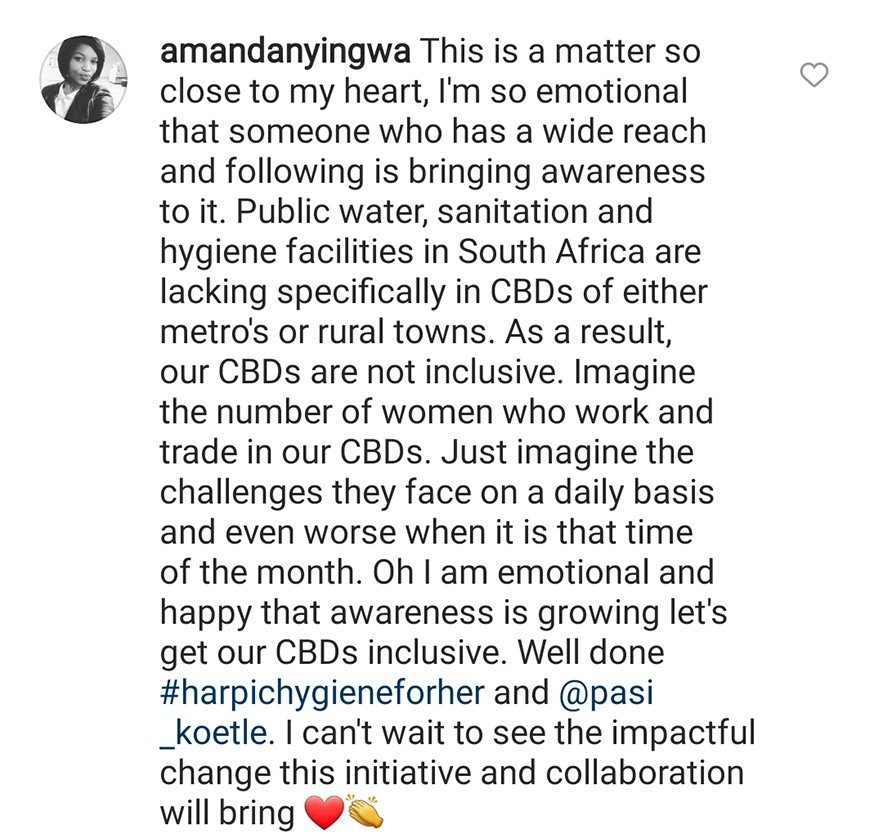 Among other common concerns also raised is the likelihood of contracting UTI (urinary tract infection, the most frequent infection in women which can be triggered by squatting toilet posture). One such a comment was made by user (@TshidiMots), saying she'd never leave her house without a seat spray "coz UTIs are my worst nightmare. I'd rather be safe than sorry".
Elsewhere in the world, there's also been wide news reports of Amazon and Uber drivers peeing in plastic bottles while transporting customers in an inhumane act resulting from the consistent difficulty of finding a public bathroom. In other instances, they (Amazon delivery drivers) even defecate in the back of their vans.
While at it, check out Koetle's Instagram thread here to see how other South African men and women alike are weighing in on this matter.
She (Pasi Koetle) is not alone; more celebs (and government) add their voices
Former Miss South Africa (2010) Bokang Montjane and her famous soccer star husband, Siphiwe Tshabalala, also added their voices to this important cause, showing why it's important that South African citizens, corporates and the government join hands to ensure that the basic human right to good sanitation for women and girls is restored.
Proving that a little less talk and more action goes a long way, the couple (as seen in her Intagram post below) joined Kotloe and other familiar faces such as the award-winning musician Brian Temba, along with Joburg MMC for Health and Social Development, Ashley Saul, as they recently gathered in Klipfontein, a small community near Tembisa, for the launch of the Hygiene For Her, an initiative by SA's top toilet hygiene brand, Harpic.
Focused on restoring broken public toilets and, where space allows, building new women-friendly toilets, the programme is currently running in partnership with the City of Johannesburg and local NGO Arise Community Development.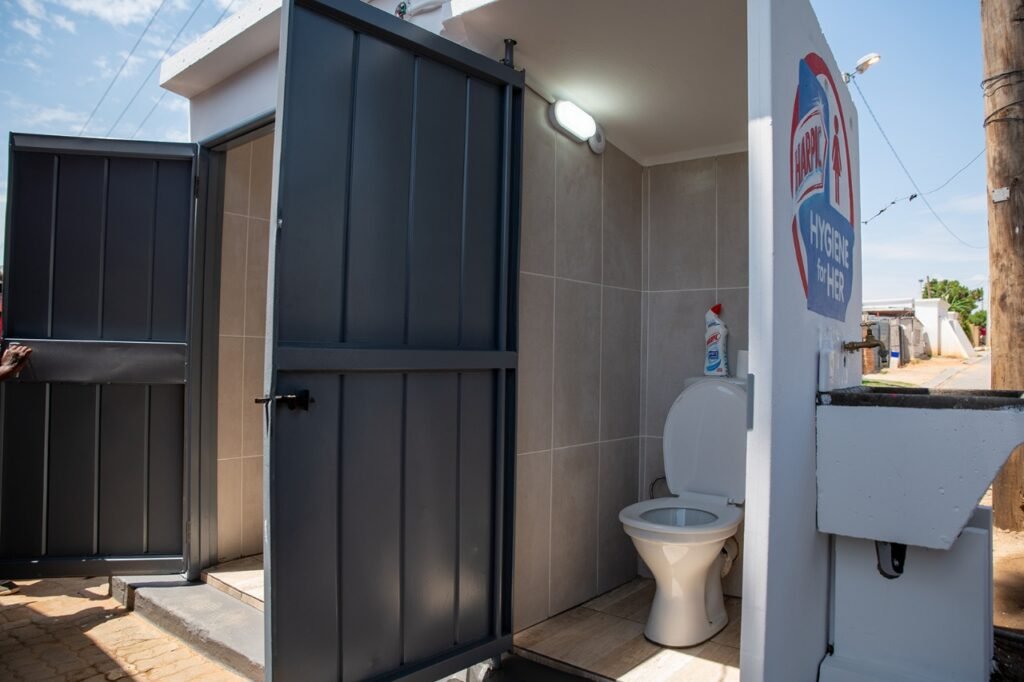 Though a lot is yet to be done to see far-reaching results to affected communities country-wide, it's undeniable that the Hygiene For Her campaign is slowly achieving envisaged goals and more is to come as it moves to the next stage, with four more restored toilet facilities expected to be handed over in the coming days in Klipfontein, with Montjane and Koetle continuing as official ambassadors – helping drive change for poor sanitation for women and children.