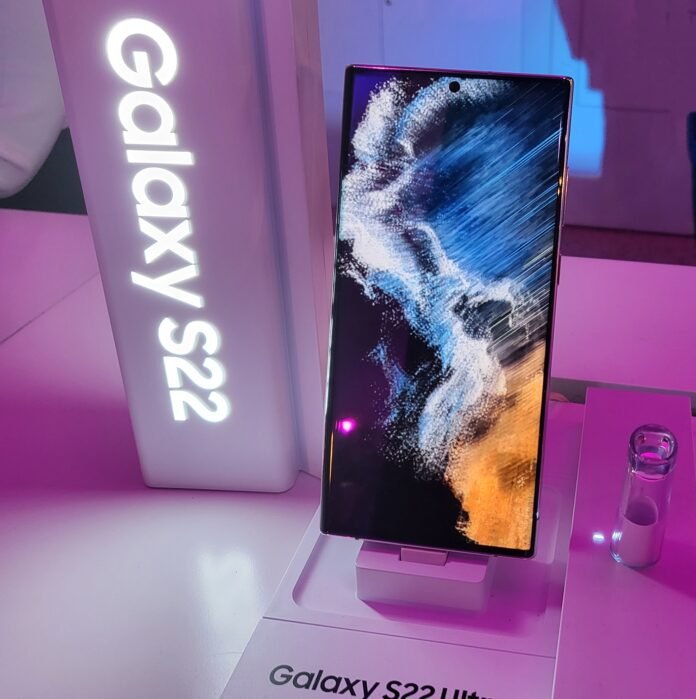 Samsung Galaxy S22 range launch date has been officially set; the three variants – entry level S22, S22+ and S21 Ultra – officially hits the local shelves on March 11, 2022, with pre-orders already in motion.
Samsung SA announced – at the Galaxy Unpacked event, Wednesday (February 9) at Steyn City, Johannesburg – that it's taking pre-orders from as early as Friday, February 11.
The Galaxy S22 and Galaxy S22 Plus are respectively the lowest versions of the range, following closely in the footsteps of 2021 Galaxy S21, choosing however to slightly reduce the size and while packing set of noteworthy camera improvements, including upgrading the old 12MP main sensor with a larger 50MP, along with impressive night mode camera capabilities. The two also spots an optical lens rather than hybrid 3x telephoto lens on board this year.
Similar in design to the Note 20 Ultra, the Galaxy S22 Ultra's premium design sets it apart from its siblings, all thanks to the elegantly laid out quad rear sensors as well as an integrated S Pen.
Overall, the Galaxy S22 series comes with several advancements, including a faster processor, brighter display.
Samsung Galaxy S22 Ultra; key features
First Galaxy S with built-in S Pen
S Pen fits right into S for the first time; by ejecting the Stylus from the bottom of the 6-8 phone, users can write, sketch or control their phone with ease. Improved latency in Samsung Notes – 70% higher – makes every pen stroke feel as natural as ink on paper, ensuring those hastily written ideas are easily converted into legible text.
While the Galaxy S22 and S22 Plus have a 50MP wide camera (23% larger than the previous models), 12MP ultra-wide camera, 10MP front camera and 10MP telephoto camera with 3x optical zoom, the all-powerful 108MP main camera sensor, which is merged with 12MP high-sensitivity mode for the S22 Ultra lets fans capture images with unimaginable clarity and brightness from day to night.
Priding itself as the king of long shots, the Galaxy S22 Ultra packs not a single but two zoom cameras; 3x and 10x optical focal lengths, respectively, including a 40MP front camera.
S22, Galaxy S22 Plus and Galaxy S22 Ultra all the 4nm processor, a first for Galaxy smartphones. According to Samsung, this processor, which utilises AI and machine learning processing, can monitor and detect app performance and direct more or less power to apps based on need. The chip, the fastest ever to be featured in a Galaxy tab, as we'll see with the accompanying all new Tab 8 Series – ensures an all-round epic performance, from crispier and clearer day and night shots, as well as an optimised mobile gaming experience you name it.
AMOLED 2X display with Vision Booster
While the phones share the same refresh rate of up to 120Hz as the previous edition, along with the Dynamic AMOLED 2x displays, it is powered with Vision Booster to automatically adjust the brightness depending on the amount of sunlight for an optimised view. The S22 sports a 6.1-inch display with unparalleled peak brightness of 1,300nits, which is even higher that of the iPhone 13 Pro Max at 1,200nits for HDR content.
The S22 Plus on the other hand has a 6.6-inch larger screen with 1,750nits peak brightness.
AI takes 5000mAh (typical) of power on the S22 Ultra one day into the next, intelligently adapting to the way we use our phone.
However, the S22 and S22 Plus has a 3,700Ah and 4,500mAh battery respectively, meaning the former can last the entire day on a single charge, while the latter should last more than a day.
Nightography / Auto-framing
Additionally, all the S22 models features the an all new photography hardware/software feature called Nightography, which make it easier to capture photos in low light.
Since the big reveal early this month, the Korean tech giant-SA personnel has been brazenly punting a video mode feature called Auto Framing, which instantly recognise and track up to 10 people concurrently.
Galaxy S22 series: Pricing and availability
Samsung SA marketing head Justin Hume said in edition to Samsung, accredited retailers will offer pre-order deals on all the devices. A Galaxy S22 Ultra pre-order is paired with the Galaxy Buds Pro earbuds, which currently sell for R3,999, the offer however is available directly exclusively with Samsung.
The Galaxy S22 and S22+ will come with Galaxy Buds Live, valued at R1,999. For consumers interested in upgrading or switching to a Samsung Galaxy S22 from a previous flagship model, Samsung will offer buyers a trade-in discount of R10,000.
Addressing guests and members of the media, Hume said the offer applies irrespective of the condition of the device, even if the screen is cracked, "just as long as it switches on".
The recommended retail prices for the Galaxy S22 series are as follows:
Galaxy S22 entry level; R19,999 (256GB)
Galaxy S22 Plus: R22,999 (256GB)
Galaxy S22 Ultra: R28,999 (256GB)