Samsung announces three inspirational schools that have been crowned winners of Solve For Tomorrow STEM competition.
The competition, which was run in partnership with the State Information Technology Agency (SITA), affords grade 10 and 11 learners from underserved communities an opportunity to develop important skills needed to succeed in a rapidly changing world driven by technology and innovation, namely science, technology, engineering and maths (STEM).
The overall winning school, Mbilwi Secondary School in Limpopo walked away with a R100,000 cash prize, while in second place, Maphuthaditshaba Secondary from Acornhoek (Mpumalanga) received R50,000. Coming on third with a R30, 000 cash prize was Umlazi Comprehensive Tech from KwaZulu-Natal.
The cash prizes will go towards STEM equipment for each school, according to their various unique needs. Samsung sweetened the deal by rewarding each of the learners in the top three teams with a Samsung device.
Highlighting the importance of an initiative of this nature, head of Corporate Affairs at SITA, Tlali Tlali said: "The youth hold the key to the future and investing in them through such initiatives is a no-brainer. We are proud to partner with a like-minded organisation like Samsung in this effort to empower the youth and help shape the South Africa of tomorrow, while also giving a voice to those who were voiceless before."
The schools had to identify prsessing problems in their communities that they could solve using STEM. With Samsung helping them with resources and mentors guiding them, they had to conduct research and develop prototypes for the challenges they had identified.
The winning prototype, as created by the learners from Mbilwi, is an ambitious plan to fix potholes in their town's roads using recyclable and sustainable materials that include discarded bottles that they collected.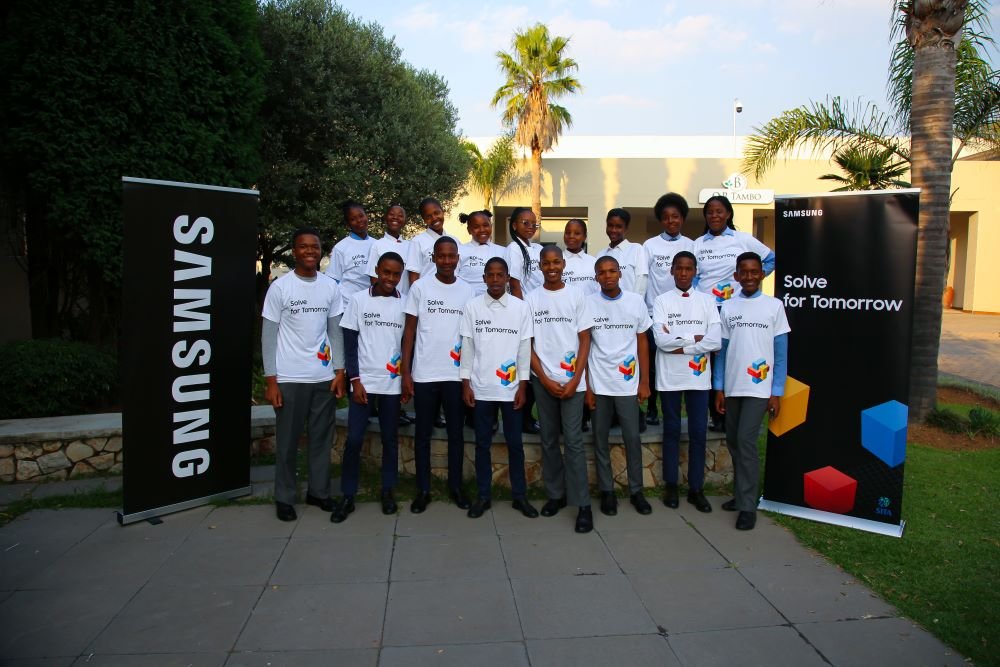 "This project has been a huge part of our lives in the past year, so winning it means a lot to us," said Igoline Coelho, team member and grade 11 learner, adding: "We have really worked hard as a team as we met every day to put in the work needed to get us not just over the line but victoriously so, therefore winning is awesome. This win will also encourage other learners in our school to participate in such competitions. We are happy that the competition allowed us to do something good for the environment and hopefully, it will spark even more interest in others to work on making the environment better for all."
Speaking at the event, Deputy Minister in the Presidency, Pinky Kekana highlighted the importance to increase the number of schools that focus on critical learning areas such as science, technology, engineering, mathematics, as well as the arts. "The skills acquired by the educators and the learners will benefit them beyond this competition. We look forward to seeing the inclusion of more schools from the underserviced communities in South Africa. We are optimistic that some of the solutions from this competition will eventually be implemented, thus putting south Africa on the map; with accompanying job opportunities for the youth."
Solve for Tomorrow: main objectives and area of focus
Through the program, Samsung seeks to increase interest and proficiency in STEM, all the while helping the country contribute to the Fourth Industrial Revolution. The competition encourages innovative thinking, creative problem-solving, and teamwork among the learners as they grow and learn important skills that could benefit them greatly in their future careers.
Explaining Samsung's motivation to get involved, Hlubi Shivanda, the brand's director for Business Innovation Group and Corporate Affairs had this to say: "Samsung is invested not only in contributing to the country's advancement in technology but also its socio-economic growth. As one of the tools for improving the country, the drive for youth employment is something the company is actively involved in and is pushing through various initiatives.
Forming part of Samsung's BEE focused initiatives guaranteed to change the lives of underserved South Africa's historically marginalised communities of them, Solve for Tomorrow does this by helping equip the youth with various technological, artisanal and electronic skills. We are proud to see this group of young people applying their minds to learn and help solve some of their communities' problems."
He hopes such programmes would spark the revolution for positive and sustainable change within local communities throughout the country.