In a small pilchards tin, one would find at least five sardines, to which one would remove the individual bony string and add tomato, onion and chillies before spreading it on well-buttered white bread. Those road sandwiches are the best.
Cooking lesson done, the sardine analogy seems apt for the five of us packed into the rather cute Citroën C3 for a leisurely drive to the Kruger with close family friends from the United States and Belgium.
Actually, Luis Alonso and his son Andres are from Venezuela, while Bela Dajka and Levente are from Hungary but work in the US and Brussels, respectively.
It was my first time at the Kruger. To my surprise, we had a long journey ahead, around 400 kilometres which equates to five hours, including some coffee breaks along the way. All five of us packed light.
Although it looked like we were squeezed like those poor sardines in the can, the vehicle was not cramped. Three in the back, my front passenger and I fitted comfortably with ease.
Looks are everything, and photos do justice to the Citroën C3, but up front, it seemed a tad bland, perhaps because it was in white, yet it had a bright orange-coloured roof. Still, it had the cute factor.
The early bright blue morning we left, and the roads were open to our adventures while most people seemed to be heading to work. It felt good being a tourist.
Despite a full house and the nifty Citroën C3 1.2L naturally-aspirated 3-cylinder engine, one was not expecting a fast drive. But it did the job. On occasion, when on the highway, I had to push a little harder on the accelerator when overtaking. The slow lane was my best friend, and that adage of keeping left pass right was ingrained in my brain.
Mind you, the 62 kilowatts of power would indicate that this would not be a power journey but more like the tortoise and the hare slowly getting from Buccleuch to the bush in this delightful Citroën C3.
We arrived at our comfy nature reserve lodge by around 1 pm in time for an afternoon game drive. On the game ride, I was in awe. The Kruger seemed stunning. One could only marvel at the smell of nature. This was a place where animal life thrived.
As a South African, one takes wildlife for granted. I may not have been as excited as my overseas guests. But I can tell you that I appreciated the opportunity to spend time with fantastic people while spotting leopards, hyenas, elephants, lions, buffaloes, birds, zebras and many other animals like the rare and beloved rhinos.
After the long and enduring game drive, we returned to the lodge and had a lovely dinner. The yummy steak was on the menu – not Crocodile, as my adventurous pals wondered about the taste. They say it's like chicken.
I was grateful that the Citroën C3 took us quickly to the Kruger in good time and with relatively decent fuel consumption. We achieved 6.2 litres per 100 km. The claimed consumption is 5.1 litre per 100 km.
As it was a small 1.2 litre tank, we had to fill it once along the way. One had to monitor the fuel consumption in case we got stuck along the way and might have to get out and push the car. Mind you, Bela and Luis looked like tough guys who would have easily made the Citroën C3—fortunately, there was no such drama.
The very next day, I was knackered, and so were my peeps. We got up at 4:00 am and headed for another game drive until later that afternoon. It was pretty brave to be up and driving in an open-top Safari Hillux with the cold wind hitting our faces and sending shivers down our spine. Cold feet were not something you could avoid. The feet were as frozen as the crispy Fritos.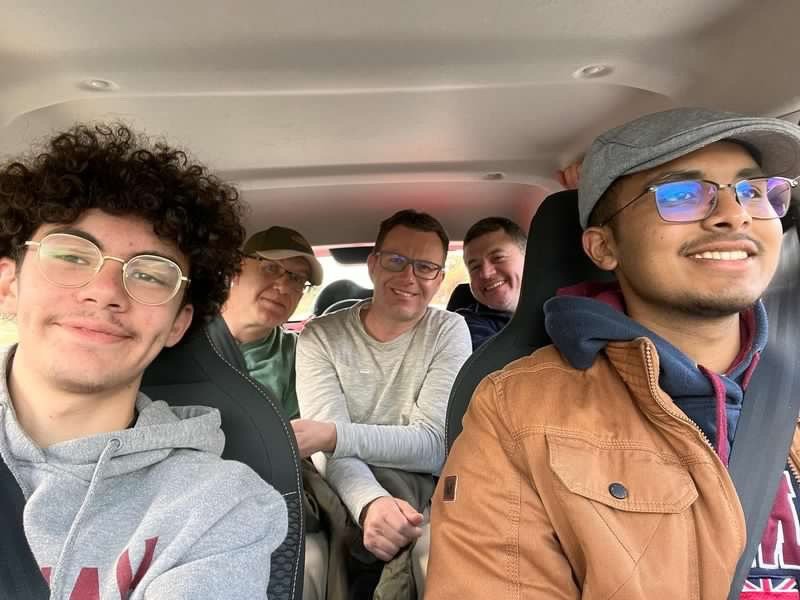 Despite our layers on, it was brrrr. When morning broke, the sunshine offered a welcome relief. It ensured that the drive was exceptionally better, warming our spirits. Of course, breakfast along the way helped. Food has that healing sense about it.
On that note, I got to reminisce about the warm heater in the C3 and the cabin layout, which was superb given its affordable price tag of R 229 00. The inside was lovely and modern. The 10.1-inch screen and the standard speakers were delightful. I used Apple car play for the directions. It was extremely helpful.
The next day, we had another long journey ahead of us; I skipped the early nature walk at 04:00 without any FOMO. I needed the beauty sleep while my pals made their way reluctantly on that cold morning. I smiled and closed my eyes, dreaming in my warm, cosy bed. This is life.
When they returned by 9 am, I was ready for breakfast before we hit the road to Johannesburg. We had a stop along the way, arriving home by 3 pm. Another home-cooked meal from Chef Brenda was on the menu. The guys loved. It was chicken breyani before Luis and Andres were flying back that evening via London to Washington. It was a sombre farewell. They were both great company. It was our last supper until we meet in Washington.
The next day we put the Citroën C3 through its paces. Still curious and eager to see our beautiful tourist places, Bela, Levente, Brenda, and I headed to the Lesedi Village for a cultural experience which included tasting some of the finest meals, learning about the different cultures; the Zulu, Xhosa, Pedi, Ndebele and Sotho tribes.
We then made our way to the Botanical gardens and did some trekking and meandering around the lovely waterfalls and flowers.
Finally, on Sunday, we enjoyed the ultimate cultural experience in Soweto. A visit to the Hector Peterson memorial site was followed by a walk through Madiba's first home.
The beauty of the rich history and bloodshed during the 1976 riots is deeply entrenched in the streets of Soweto. For the people that fought for democracy, this is a community with a rich culture and history.
We then headed to the local pub for beer tasting. I don't drink, but my foreign family friends from Hungary sampled my share. They loved it as they did the hearty lunch, which came with meat and chicken, pap, some chutney, and greens too.
We began the journey home. One more outing in store, a trip to OR Tambo International for Bela and Levente to catch their flight home that Sunday. Time flies when you are having fun with amazing people. Our trip totalled about 1000 kilometres in the Citroën C3.
It was a sweet compact car that was light on fuel, with the bonus of being trendy and funky. It has all the modern features that many will want in a vehicle. Not as solid and sturdy as its German competitors, but it gets the job done and is a bargain given the R229 000 price tag and its generous offering.
No German car can compete with French flair, especially on price. More importantly, the Citroën C3 was part of creating priceless memories. You can't beat that!