Registrations will open in less than a week for one of the world's biggest breast cancer awareness and education walks, iThemba Walkathon.
To bring things up to speed ahead of the July 2 (Tuesday) registration opening, Avon Justine announces that it will once again host the 2019 edition of South Africa's famed iThemba Walkathon in partnership with the Cancer Association of South Africa (CANSA), Wings of Hope and Look Good Feel Better.
Coinciding with the Breast Cancer Awareness Month, this year's event is scheduled to take place on Sunday, October 20 at Marks Park in Johannesburg.
With a record 29 000 expected to participate this year, iThemba Walkathon remains the largest gathering of its kind in over 50 countries in which Avon operates. This year, the event hits a cumulative 7.4 million kilometer distance walked by participants ever since its inception in 2006.
Centered around the message that "early detection saves lives", iThemba Walkathon forms part of Avon Worldwide's breast cancer promise that "no woman is left in the dark about breast cancer".
Through the iThemba Crusade of Hope, Avon Justine has raised over R23 million towards breast cancer education, with nearly two million women reached through awareness programmes in partnership with strategic NGO partners.
This includes the likes of Powa (People Opposing Women Abuse), Lawyers Against Abuse, a newly formed NGO that provides legal assistance to victims of gender based violence.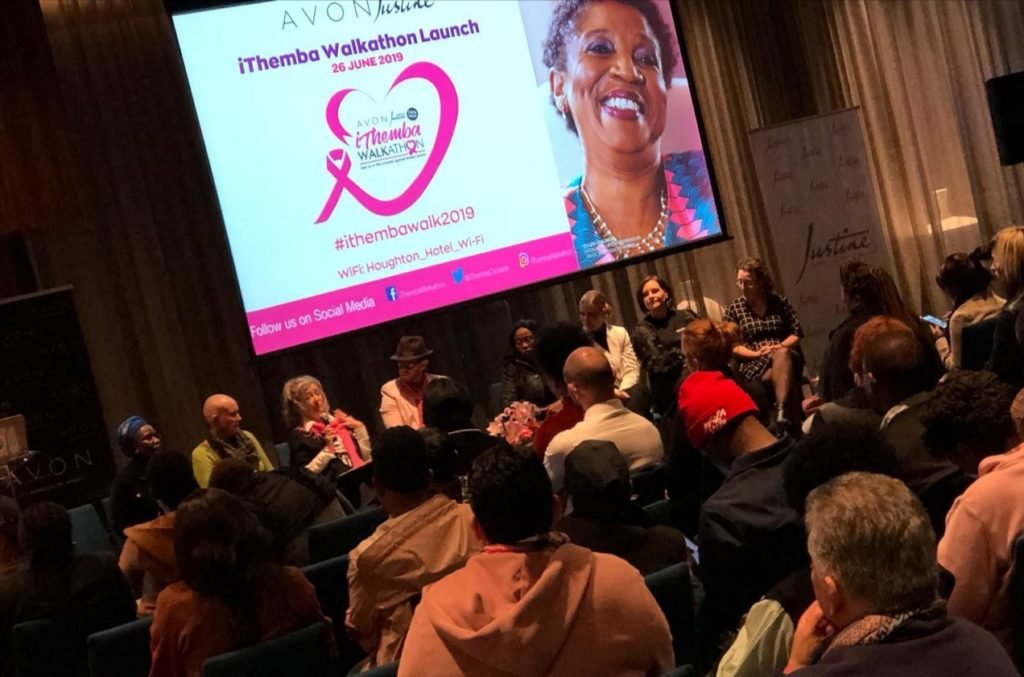 "We are delighted and humbled to host the 14th edition of the iThemba Walkathon. This initiative gives expression to Avon Justine brand promise to #stand4her by enhancing her earning potential and through our philanthropic programmes," said Bridget Bhengu, corporate communications director for Avon Justine.
She added: "Breast cancer affects 1 in 26 South African women and worryingly only 43% of women are confident that they could correctly identify the top ten symptoms of the disease."
Breast cancer awareness and screening key in saving lives
In a study by the Avon Foundation for Women in four countries including South Africa, it has been found that 60% of women are too embarrassed to seek medical help when they notice changes in their breasts.
"The need for education and massive awareness around the disease is the reason events like the iThemba Walkathon are critical. These events equip women with adequate knowledge proactively, they empower women to select screening options that are suitable for them," adds Bhengu, as she touched on the importance of early diagnosis, which ups the chances of breast cancer survival – upto 90% five-year survival rate to be precise.
As evidenced during the event's launch (on Wednesday, June 26) in Houghton, Johannesburg, where a panel of experts detailed their personal journey with breast cancer and the importance of their role in the success of the event, the iThemba Walkathon promises to be bigger and better this year.
Several media companies, including Kaya FM, Caxton and other influential personalities such as motivational speaker Lynn Forbes and PR specialist Melanie Ramjee have once again thrown their weight behind this year's event.
Those keen to participate and make their mark in the fight against breast cancer can do so by visiting www.ithembawalkathon.co.za to register as of July 2. Alternatively they can register manually at a participating Sportsman's Warehouse nation-wide.
Closing date for registrations is set for October 10, 2019. Tickets – for the 5km and 8km races – will also be available for the late comers on the day of the event.
Companies and organizations can purchase suites for their employees and stakeholders by contacting the event organizers through the iThemba Walkathon website.
*For brand focused South African news and heads-up on the great things your favourite lifestyle brands are doing to empower local communities, make sure to visit the Empower SA page daily!