But on Thursday, the South African beauty queen proved her critics wrong as she made her first major 'advocacy' appearance since her December 8, 2019, crowning.
The 26-year-old visited the United Nations headquarters in New York, where she met with the executive director, Phumzile Mlambo-Ngcuka, and her team to reiterate her passion to use the Miss Universe platform to "shed some light on social issue that affect women and children," she said.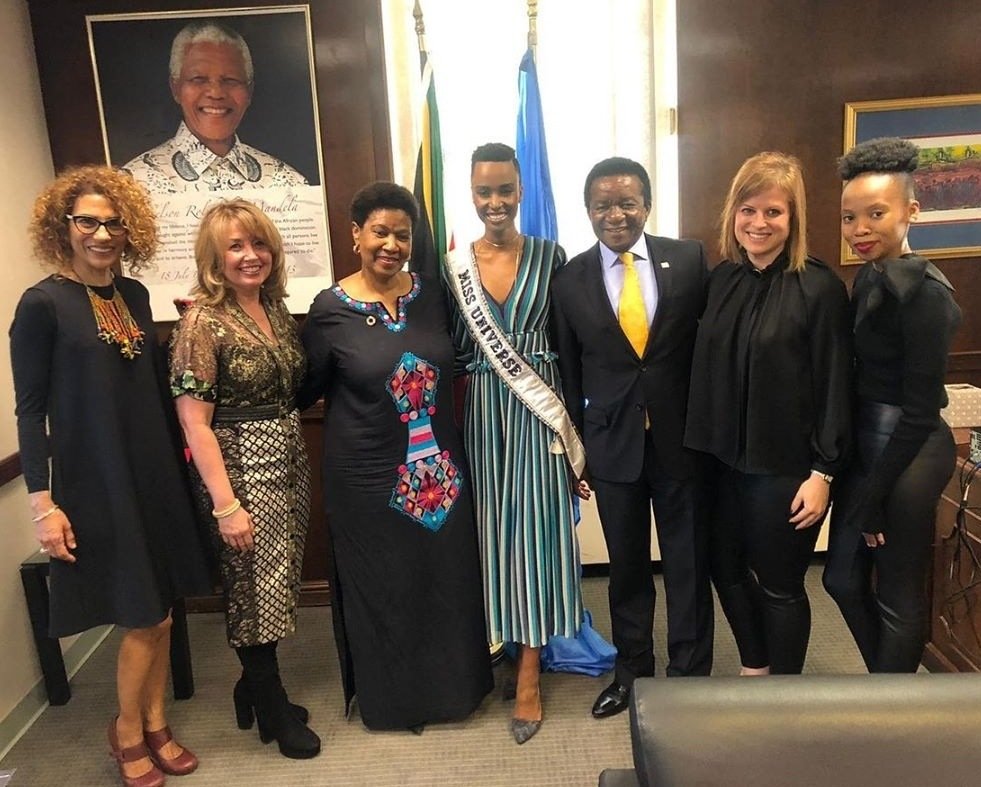 The visit came just days after several people flooded the Miss Universe official Instagram account to voice their frustrations with the organisation's 'failure' to maximize Tunzi's reign to bolster philanthropic efforts around the world.
"I love her! But I'm wondering why she cannot give a simple message (of sympathy) to the different calamities around the world, bush fire in Australia, volcanic eruption in the Philippines, floods in many places etc," reads @johnforce02's reply to MUO's "self-care" post showing Tunzi drinking hot chocolate, and showing off her spotless face at a beauty parlour following a beauty treat.
"I love Zozi Miss Universe!! But I need to see quality content coming from you. I want to see you making an impact and changing kids lives. #girlboss let's do it," shared @cheyanneforreal.
Another (@senoritojc) fired back: "Give Zozi some work to do and don't just confine her in an apartment. I felt bad for her not being able to not maximize her reign."
Many South Africans however, have argued in her defense, and believe there's a deeper reality behind all the "window dressing" by IMG Universe, owners of the Miss Universe.
"We received much better content from the @official_misssa, we know what she's capable of. I personally believe she's one of the best Miss Universe you've ever had. You just don't know what to do with her. Please post better content @missuniverse or courier our girl back. This is sabotage," Sobabini Mapipa (@soba8640) wrote.
Another user, @elifernandez_1, concurred with the above sentiments, stating: "Dear Zozi you have so much wisdom! If IMG can't manage your capabilities properly, go ahead and visit schools in Brooklyn, Queens and the Bronx girl. Start inspiring young girls to follow your lead."
Time to ditch New York and travel the world!
When will she start traveling the world? I think is time for her to get out of New York," – Victor Marrufo (@vmarrufo)
Another common concern raised was that most of the Miss Universe posts are always about Tunzi strutting around New York, something which the Eastern Cape-born beauty addressed with eNCA (below) during her Wednesday UN visit:
"We are so lucky this day and age to have the social media because what I say travels around the whole world. I don't have to be there physically in order for my presence to be felt in other parts of the world.
"But I do travel and I'm looking forward to traveling this year, and visiting countries I've never been before and meeting people, hearing their stories and looking how I can help in my own capacity."
*For the latest brand focused South African news and breaking stories, make sure to visit NOWinSA daily