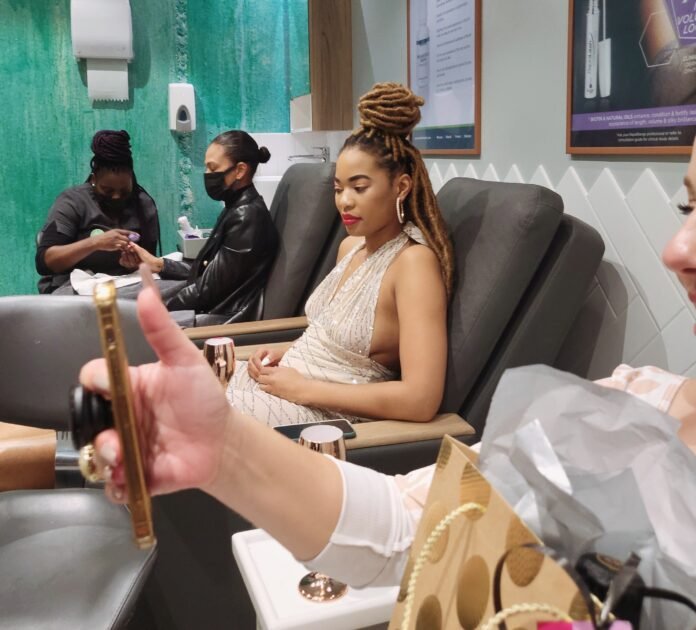 Although still in its early stages, Sorbet First Thursdays is already becoming a hit among big name lifestyle brands and glam seekers alike as it brought on board Pongràcz as the drink sponsor and Exuviance as skincare brand partner for its second edition at the Nelson Mandela Square Sorbet branch in Sandton, just a month following the unveiling of the concept at the Mall of Africa, Midrand.
This fitting collaboration was without a doubt a great kick start to the month of May as South Africa's leading professional beauty brand treated guests to an unforgettable night of pampering, where they each enjoyed signature beauty treatments of their choice, while sipping on the proudly South African Methodé Cap Classique, Pongràcz.
A perfect day/night time drink which is as refreshing as its full of flavour, guests were served the new Nectar Rosé Light variant, which delights the taste buds with its lower alcohol, enhanced sweetness and distinct flavours of strawberry and red berries. After all, this exquisite, easy drinking MCC is just perfect for everyday enjoyment and any occasion such as this!
Not only that, VIP guests were also treated to customised culinary experience at the one and only Tang Restaurant, just one floor up.
Sorbet First Thursdays; Exuviance Professional masterclass
Guests were also treated to an exclusive skincare masterclass, courtesy of the world renowned professional skin care brand, Exuviance, now available at select Sorbet Salons.
Taking guests through the brand's humble beginnings, Exuviance® SA head trainer Bronwyn Kingston said from the very beginning, the main goal was to create revolutionary formulas and technologies that would enhance skin health for their clients.
For those not in the know, Exuviance – which comes from the word "exuviate," meaning "to shed" – was created by the founding dermatologists of the world famous NeoStrata products. They discovered the anti-aging benefits of Alpha Hydroxy Acids (AHA) and Polyhydroxy Acid, upon which the first Glycolic (AHA) Peel was created and patented.
Best known for their anti-ageing properties, the discoveries have since led to over 100 patents (AHA containing cosmetics) and publications. "Exuviance is NeoStrata baby sister and has axactly the same technology, which is world renowned for its epidermal restructuring properties and has clinical data to back this up," said Kingston.
The technology around the brand, she added, is based on Glycolic Acid derivative, which is known to penetrate the outermost part of the skin, the epidermis. "As we get older, so does our skin renewal process. As the result, our skin gets thinned, sallow, dull and dry. So Glycolic Acid is able to regulate the epidermal functioning in skin and rejuvenate it to behave in a more youthful manner,," Kingston further explained.
"In a nutshell, when you use Exuviance, it works by restoring all the three layers at once – the outer layer, the epidermis and the dermis. It stimulates collagen synthesis, ultimately removing the dead skin cells to reveal a more healthy, glowing and evenly toned skin texture. In the end, you'll have smoothed out wrinkles and fine lines."
Candice Thurston, Sorbet marketing executive added that ensuring exceptional service for guests' skin care needs is at the heart of what Sorbert does.
"As such we are committed to holding our guests' hands through their skin journey of healthy skin," she said, adding: "Hence we've proudly collaborated with Exuviance, whose diverse dermatologists have gone on to develop high-performance formulas that work with your skin to bring you visible results. In line with their motto 'Don't wait, start to Prejuvenate!', ensuring that our customers start taking small steps to healthy skin today is something which we at Sorbet live by."
About Sorbet First Thursdays
The First Thursday programme will run at selected Sorbet salons on the first Thursday of every month, giving both ladies and gents the opportunity to have glam and grooming treatments after regular business hours.
The programme applies to the brand's Sorbet Salons, Sorbet Nailbars, Sorbet Drybars, Sorbet Man and Candi&Co.
A wide range of grooming treats for ladies and gents – from facials to pedis and manis, expert skin care and Sorbet signature body massages, you name it – will be available on the day at discounted prizes if you bring along a friend or a loved a one.
To book your space for the next First Thursdays (on June 2) at your nearest participating Sorbet store, visit www.sorbet.co.za.
---
*For more brand focused South African news and a selection of content considerably hand-picked by NOWinSA editorial team, click here!