Vodka has been South Africa's most popular spirit since for decades now for a good reason.
The clean, crisp profile of vodka renders it not only versatile that pairs well with almost anything, but has made it ideal for crafting a variety of refreshing cocktails, making it the preferred choice for daytime enjoyment.
According to the latest data from Statista, sales volumes of vodka in South Africa peaked at  6.42 million litres in 2023 alone, which is indicative of a robust growth of this highly cherished ethyl-based spirit.
This trend reflects the ever-evolving tastes of vodka connoisseurs looking for a refreshing and versatile beverages that perfectly complement the jolly season.
Below are some of the reasons why vodka continues to charm its way into the hearts and minds of consumers, and is rapidly becoming the go-to daytime drink for 2023.
Versatility: Vodka's subtle and smooth flavour makes it versatile, offering a blank canvas for mixologists to create a wide range of delightfully refreshing cocktails. It also pairs well with most mixers allowing you to be creative with your combinations even at home.
Low calories: With an increasing focus on health and wellness, many individuals are opting for low-calorie beverages. At around 100 calories per shot, when mixed with calorie-conscious ingredients, vodka offers a more figure-friendly option for those who are careful about their diet.
Refreshing options: Vodka cocktails are incredibly diverse for any occasion. Whether you're lounging on a beach, planning a picnic, or ready for fun late-night outing with your loved ones, vodka cocktails can be customised to match any occasion.
Premium selections: The South African beverage market now boasts a premium selection of vodka brands, each offering distinct and vibrant flavours.
"We are delighted with the growing popularity of vodka as the drink of choice for our increasing discerning customers," Nerika Singh, brand manager for Reserve Portfolio at DIAGEO said, adding: "These shifting consumer patterns embolden us to step up our efforts to provide our customers with premium products, and to work tirelessly to enhance customer experience."
As we head into the festive/Christmas season, she's confident that their diverse product range will enable customers to unleash their creative juices and explore the infinite possibilities that vodka offers them.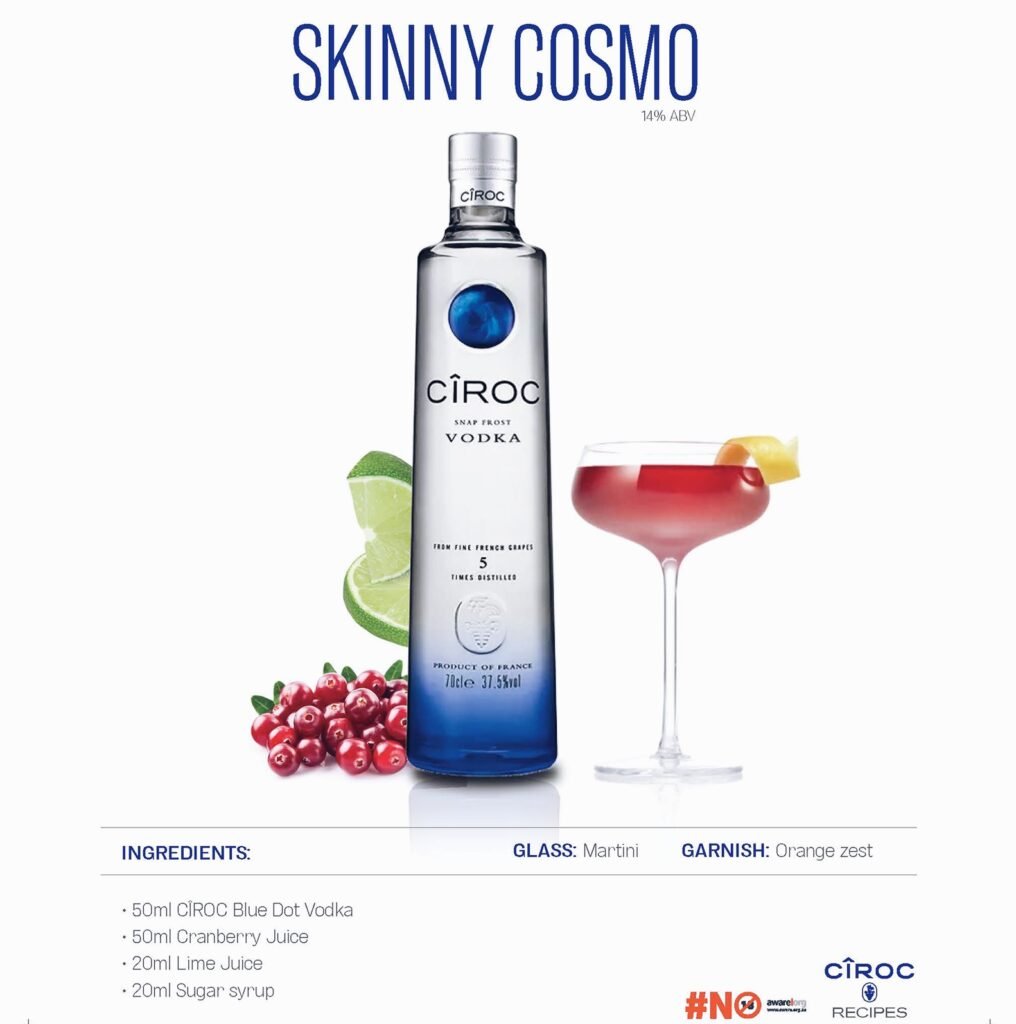 Cîroc taps into Vodka's positive market outlook
According to the latest Vodka market projections from Statista, vodka volume sales are expected to reach 9.24 million litres by 2027, with forecasts for the market expected to hit 10.9% in 2024.
To that end and in celebration of World Vodka Month, Cîroc Premium Vodka hosted prominent lifestyle media and influencers in Johannesburg for the Cîroc World Vodka Month Masterclass.
As part of the celebrations, guests were treated to an exclusive experience that saw them enjoy their vodka in new ways as they got to mix their own choice of cocktails, learning in the process how easy it is for anyone to make their own delightful drinks at home.