This is a good step in the right direction to help bolster current international efforts, which indicates that only 9% of the plastic packaging used worldwide gets recycled, according to
 data by University of California's Science Advances
faculty in 2017. Even worse, another report by the Helmholtz Centre for Environmental Reasearch in Germany found that ten rivers – two in Africa and eight in Asia – are responsible of 90 percent of the world's plastic marine dumping. This results in hundred thousands of sea creatures – and a whopping 90 percent of birds to be precise – having tiny pieces of plastic in their guts, which they accidentally ingest leading to death. In total, 8 million metric tons of plastic  reportedly enters the ocean from land every year.
Samsung pulling all the stops to end plastic waste
Fom the first half of 2019, Samsung Electronics has committed to substituting the plastic packaging used before in its products and accessories – be it mobile phones, tablets to home appliances – with environmentally sustainable materials like recycled/bio-based plastics and paper. To ensure effective implementation of this exercise, Samsung has formed a task force involving design and development, purchasing, marketing and quality control for innovative packaging ideas. "For mobile phone, tablet and wearable products, Samsung will replace the plastic used for holder trays with pulp molds, and bags wrapping accessories with eco-friendly materials," read a statement from the tech company. Plastic bags used to protect the surface of its home appliances such as TVs and refrigerators, will also be replaced with recycled materials. In place of conventional paper, Samsung will now use FSC (Forest Stewardship Council) certified materials, which is composed of virgin tree fibres, which are not only eco-friendly but are sourced in a socially and economically viable manner. The FSC sets
strict safety rules
 and standards for forest products, meaning that Samsung products will be bestowed with a label attesting that these chain of custody assessments have been met.
More global efforts underway
Under its circular economic policy, Samsung Electronics has set a mid-term implementation plan to only use certified  paper packaging materials by 2020. By 2030, the company aims to use 500 thousand tons of recycled plastics and collect 7.5 million of discarded products. Other notable innovations by several other ompanies include the 
European Space Agency (ESA)
, which recently announced that it will use satellites to detect and track where plastic waste is most concentrated and focus cleanup efforts on these areas. The
 Ocean Cleanup
 non-profit organization on the other hand is using satellite imaging and machine learning to help clean up and capture the 5 trillion pieces of plastic trash they have observed in the world's ocean garbage patches.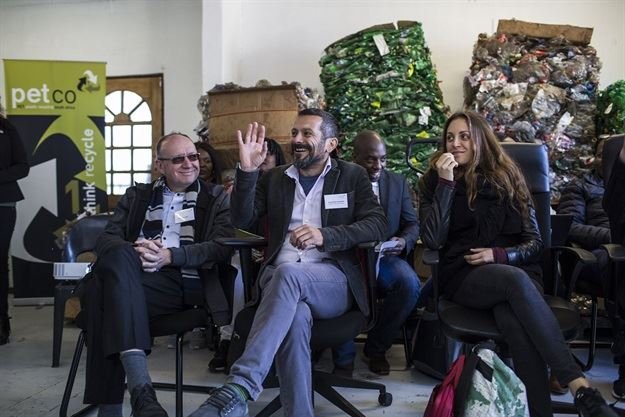 In South Africa, which ranked 12th in the world for mass of mismanaged plastic waste at 56%, Coca-Coca has pledged to turn things around by recycling a bottle or can for every one it sells. This forms part of the beverage company's 
World Without Waste
 campaign, with plans to recycle 100% of its packaging by 2030. To achieve this, Coca-Cola has gone into partnership with a number of global partners, including the Ellen MacArthur Foundation's New Plastics Economy initiative and World Wildlife Fund. Furthermore, in South Africa the beverage company helped set up the PET (Polyethylene Terephthalate) recycling company, PETCO, which in 2016 achieved a recycling rate of 55%. In 2017, PETCO welcomed into its membership, Italian moulding plant Serioplast, which has in place a new technology that breaks PET plastic down and turn it back into reusable plastic containers.